A Museum For The Whole Family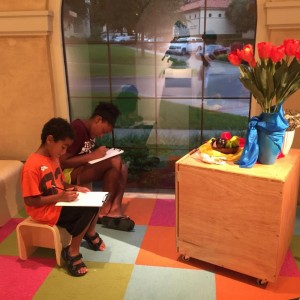 There's always something new at The Cornell Fine Arts Museum, and this fall we invite you to bring the whole family. While parents take in the permanent collection and our fall exhibitions, the kids can test the newly renovated Education Gallery. The Education gallery, made possible by a generous grant from the Winifred Johnson Clive Foundation and matched by the Galloway Foundation and members of the Board of Visitors of the museum, celebrates creativity by helping learners of all ages to discover the world of art.
As a recent study by the Florida Department of Education revealed, there is a direct connection between academic success and arts experiences.  At the Cornell Fine Arts Museum, we want to encourage parents to start their children's involvement with art early. "Exposure to art, and participation in creative play as a first form of engagement, are extraordinarily beneficial in our children's cognitive and social growth. Museums are ideal places for that encounter to happen, and we are  excited to have this new gallery here," said Ena Heller, the Bruce A. Beal Director of the Cornell.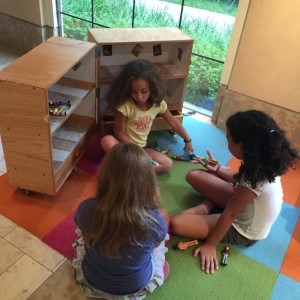 Introduced by videos that detail the museum experience and show local artist Barbara Sorensen at work, the new Education Gallery displays sculpture from the permanent collection and offers the following interactive play stations:
Drawing Tours: Three different drawing tours (En plein air; The human form; Kid Doodles) encourage going through the galleries, careful looking, and playful drawing.
Still-Life Station: Create a still life to rival the famous works of the old masters! Children explore spatial arrangement, perspective, proportion, and balance while designing their own composition, mixing everyday objects like fruit, vegetables, bowls, goblets, flowers, and animals.
Build with Blocks: Let your imagination run wild with these foam blocks. Construct a tower, build a house or a fortress, make a ship, etc. With so many shapes to choose from, you can build anything!
Mini Museum: Congratulations, you are the new curator of the mini museum. Design a unique visitor experience by arranging works on the gallery walls. Now, don't forget to include your visitors!
Admission to the museum and all activities are free courtesy of Dale Montgomery '60, and is located at 1000 Holt Avenue.  For more information please call 407-646-2526 or visit www.rollins.edu/cfam.






by





by