Awakening The Dragon
The Dueling Dragons of Orlando "cops and kids" dragon boat team hosted an "Awakening the Dragon" ceremony at Lake Fairview in Orlando, to celebrate a new 10-person training boat purchased with a $14,000 grant from the Kiwanis Club of Orlando Foundation. The ancient Chinese cultural ceremony involved "dotting the eye" of the dragon on the new boat before it was launched in the water for the first time to bring good luck to all who use it. The Chinese American Association of Central Florida performed the ceremony which also included a traditional Chinese dragon dance and drum performance after the eye was dotted. Tom Riddle, vice president of the Kiwanis Club of Orlando Foundation, performed the honor of dotting the eye.
Dueling Dragons is an unlikely partnership between inner city teens and Orlando Police Department officers who have joined together to become a one-of-a-kind, competitive racing team. The mission is to use this ancient sport to build trust and long-term mentoring relationships at a critical time in the lives of both cops and kids in some of Orlando's toughest neighborhoods. The program addresses gang prevention, racism, profiling, and lack of respect for authority while instilling the values of discipline, dedication, teamwork, respect and paying it forward. Success in dragon boating comes only when a group of paddlers, one steersman and one drummer work together in complete harmony. Each person physically contributes to the success of the team.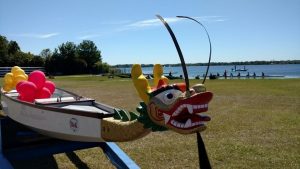 "This new boat will help us to grow and strengthen our program," said Dueling Dragons founder, Andrea Eliscu. "We are so grateful to the Kiwanis Club of Orlando Foundation for their support of our mission and the difference we are making right here in Central Florida."
When not in use by Dueling Dragons, the new training boat will also be made available for use by other new dragon boat paddlers from throughout the Central Florida community through the Orlando Dragon Boat Club. This includes individuals as well as various community organizations/groups and corporations who come out to try the sport for fitness and fun.
The Kiwanis Club of Orlando is one of the oldest Kiwanis clubs in the state and the nation. Dating back to 1921, the club has served the needs of Central Florida children while fostering camaraderie between club members from all walks of life.  The Kiwanis Club of Orlando Foundation makes grants annually to not-for-profit organizations that serve children and youth in Orlando, Orange County and surrounding communities.




by







by