Baking Buddies At The Ronald McDonald House (at Orlando Health)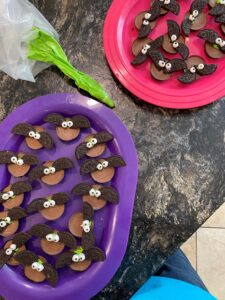 By Jill Shargaa
Do you like to bake? Do you have a need for speed? How about consider volunteering at your nearest Ronald McDonald House and become part of the Baking Buddies.
You have two hours to bake and make something sweet for the residents of the house between 1:30 p.m. and 3:30 p.m., Tuesday, Thursday and Saturday.
Speaking from experience, this is so much fun to do! You must bring all your ingredients, and you get to use a gorgeous, modern kitchen with three new ovens, and large islands to assemble your cookies. You have access to all of their appliances, utensils, baking sheets, bowls, spoons. If you prefer to bring your own hand mixer, you can.
You sign-in at the front counter with your driver's license or I.D.  They print out a volunteer badge that you wear on your shirt. Once inside the kitchen, you have two hours to bake and then you must clean up afterwards. There are paper towels and cleaning supplies furnished for you.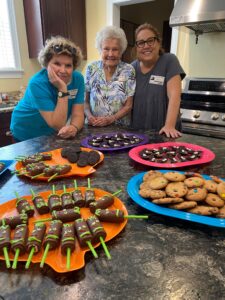 The next meal is at 6 p.m. and is usually another team of volunteers coming in to cook supper. So you know that recipe you have that may require you to "chill the dough overnight"? Forget it. Because of the two-hour window, think in advance about what you can make and include the clean-up time too.
We spoke to a resident who was from the Bahamas. Her child had been at the hospital since June 2022. He won't be able to come home until March 2023. You can imagine what a "home-baked" treat was for her and her family who were staying there.
It can be slice-n-bake cookies, or go full "great-grandma's-recipe-for-holiday dessert." We made Halloween treats today: Frankenstein Cake Pops (Lil' Debbie Swiss Rolls), Oreo-Bat Treats (Oreos cookies and Reese cups), slice-n-bake Chocolate Chip cookies, and M&M cookies.
To sign up to Bake or for more information please visit: https://takethemameal.com/meals.php?t=LBEZ8232
Or contact Katie Thomas, Operations Coordinator, 407-206-0957, ext. 109
Ronald McDonald House is located at 1630 Kuhl Avenue, Orlando, FL 32806




by







by