Beatlemania Hits The Winter Park Playhouse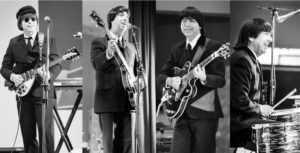 As part of its quarterly One-Night-Only Series on the Mainstage, The Winter Park Playhouse will present THE FUN 4 – an internationally known Beatles tribute band – performing hits from their original Disney touring shows, Beatlemania and The British Invasion Show, on Saturday, June 15, 2019 at 7:30 p.m.   Net proceeds will go to support the musical programming on The Playhouse Mainstage and out in the community.
Relive Beatlemania in a whole new way with THE FUN 4! Audiences will experience the thrill and excitement of a Fab Four concert as this all-star cast featuring members of the original Disney production of The British Invasion takes the stage at The Playhouse.
THE FUN 4 takes its audience through a journey that includes classic hits like "A Hard Days Night," "I Want To Hold Your Hand," "Help!," "A Hard Day's Night," and many other early favorites from the Ed Sullivan era. Changing from the early years and the signature black suits into the colorful "Sgt. Pepper Years" and the "Abbey Road Late Look," THE FUN 4 continues the excitement with "Yellow Submarine,'" "Hey Jude," "Come Together," and much more.
Of THE FUN 4 performance, Eyes and Ears Magazine remarks "Magical … Disney guests plan their vacations around their shows!" "Tickets will sell extremely quickly, so book as soon as possible!" adds Roy Alan, Winter Park Playhouse artistic director.
Tickets will go on sale Tuesday, March 12 and are $65 with net proceeds to benefit The Winter Park Playhouse, a non-profit 501(c)(3) organization. For tickets and more information call The Playhouse box office at 407-645-0145 or visit online at www.winterparkplayhouse.org.
Photo courtesy of THE FUN




by







by