Bodhi Bear…
Live Meaningfully – Ayesha G. Shenk, M.A.
May always brings with it a time of reflection and renewal for me as it's the month in which my birthday falls. As such, I usually share with you my most favorite piece of written work, Desiderata… which I will do in an upcoming article, but just not today.
The reason for the deferment is because something interesting happened to my family this last week and it bears sharing.
Let me first introduce you to Bodhi. Bodhi is an adorable 8-year-old Labrador retriever. I've had him since he was eight weeks old and he has become more and more 'human' with every passing day of his life. He has seen me through the very best and the very worst of the last eight years and his gentle nudge, his compassionate heart, and his playful spirit have served me well, even in the hardest of times.
I've had dogs my entire life, all of whom I've loved, but none quite like this one. I have never known a dog who so instantly endears himself to everyone he meets and about whom so many have commented on his "human-like" qualities. Bodhi, albeit not a champ on a leash, offers just about the ultimate set of characteristics you'd want from any member of your family. He has a different but unique relationship with each member of the family and he, in many ways, offers a wholehearted epicenter to our little clan. Always waiting to greet each one of us in a particular and special way, he is the epitome of unconditional love, acceptance, and appreciation.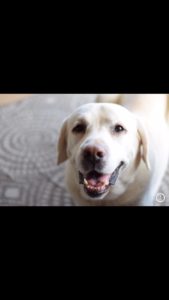 Now, don't get me wrong, in the hustle and bustle of life and work and crazy sports schedules, Bodhi sometimes gets the short end of the deal. He waits dutifully for us when we are away and marks our return with equal elation each and every time. He sometimes has to log long days of guarding the house and dreaming of our return, only to have us descend upon the house and perhaps not greet him with the same dedication and amorousness with which he greets us. But we love him dearly and do better than average in our appreciation of him… especially now.
This past Saturday, Bodhi suddenly fell ill. When I say ill, I mean unlike anything I've ever seen before. This dog loves food about as much as he loves me and he refused to eat. The tail that could take out plants in a single sweep, labored to wag and the bounce in his gait was completely gone. All of a sudden, this was not the same dog.
Saturday night found us in the emergency vet for three hours with a very weakened, extremely sad-eyed pup. We were sent home with some antibiotics and some well-wishes. Sunday, we stayed home all day in order to watch this altogether unfamiliar furry friend. Barely moving and, again not eating. After two nights of my husband and I staying up with him, tending to his every groan, sitting on the floor with him and hand feeding him… mercifully Monday morning came and our favorite vet was back on duty.
After dropping him Monday morning to the great Dr. Newman and hearing back immediately about a preliminary diagnosis and a set of protocols, testings, and treatments, we were terrified about the potential of devastating news but so grateful that our guy was in such capable hands.
Three sleepless, prayerful days later, with Bodhi still in the hospital on IV fluids and antibiotics, we got word while sitting around a tearful breakfast table that it was time for him to come home.
The interesting part about this duration of time is it concurrently brought some very good news and some very loving family time, but there remained a pall on the house. This dog who had, in some ways, become an ambient part of our lives, actually occupies a whole lot more of our hearts and our worlds than we sometimes realize. This dog, our Bodhi, is one of us. He is a profoundly cohesive agent in our home and our lives and we just weren't the same without him.
I am happy to report, that although Bodhi still has a long course of treatment and antibiotics ahead of him, he is back where he belongs – happy, waggy, playful, funny, loving, and perfectly him and we are all a bit better off for having remembered just how easy it is to take one another for granted and just how good it is to have our family whole again.
Take the time, make the extra effort – love and hug and rub and pet your people and your animals. Spend quality time at home together and imagine, even if fleetingly, how different life would be without them so you may remember just how blessed it is with them.
Till the next time,
Be Well; Live Meaningfully.
Ayesha
Ayesha G. Shenk, M.A. practices at 2150 Park Avenue North as a Licensed Mental Health Counselor and can be reached at www.livemeaningfully.net or 407-796-2959.






by





by