BOO!!!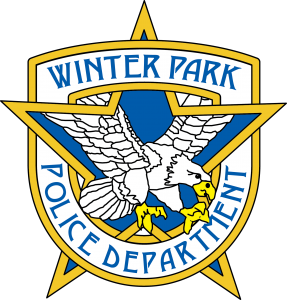 Protection And Service – By MPO Jim Whitman, Winter Park Police Department
Did we scare you?  If not, think about this.  By the time you are reading this, there are fewer than 92 days left in 2019.  October in Florida is usually the first month that there are hints that fall is upon us.  I can usually sense this as my sweat begins to take on that pumpkin-spice aroma.  Of course, as a child we couldn't wait for October because it meant that pumpkin patches would start popping up, sweet treats were there for the asking as well as some scares (at least one night of the month), and the "major" holidays were just around the corner.  But as an adult, the thrill of being "spooked" has worn off and the thought of having my credit card number stolen has replaced my fear of apparitions. So, while we contemplate some momentous days in October, let's also consider some ways for us to avoid some popular scams.
It is always fitting to start at the beginning.  October 1st has the distinction of being "Less than Perfect Day," which makes it perfectly obvious that it is alright to have imperfections, as long as you always try your hardest.  Speaking of trying your hardest, this should remind us to always take that extra minute when dealing with paperwork that has our personal information on it.  By taking time to shred your personal documents and secure your other personal information within your home, you can do your best to keep your information safe from ne'er do wells.
Continuing on into the month, October 5th has two distinctions, World Teacher Day and Do Something Nice Day.  So allow me to "teach" how not to "do something nice" for a scammer.  If you are ever contacted either by phone or email and informed that your loved one is in trouble and you need to either send or wire money, insist on speaking with your loved one.  If you are able to speak with them or if they offer to communicate for your loved one, ask a question that you know is preposterous (for example, ask about a fictional pet).   If they provide any answer other than "what are you talking about" you can bet it is a scam.  Or, if you have another phone, try to make contact with your loved one (even if they tell you not to do it or great harm will come to them).  Once contact is made, terminate the call with the original caller.
October 8th is National Face Your Fears Day.  Take this opportunity to educate yourself on Social Media and Internet Safety.  By following just a few tips, you can have no fear that you are opening yourself up to become a victim of a crime.   Never post the fact that you are on vacation and wait until you return to post those vacation photos.  Leave names off the photos so you don't provide those bad guys the names of your family or acquaintances to use in other scams later.  When shopping on-line, always look in the address bar for the padlock image to ensure that the website is secure before entering any personal or payment information.  Otherwise, you will be celebrating on October 15th, National Grouch Day!
All of these days lead up to the pinnacle, October 31st which of course is both National Magic Day and Halloween.  So allow us to offer these few tips; when selecting a costume for your kids; make sure that the costume is visible in low light conditions and don't restrict their vision, have a planned "trick or treat" route if you are allowing your kids to go without you, but make sure that they travel in a group.  Prior to letting the kids chow down on their newly collected treasures, make sure you examine everything to see if it has been tampered with.  Lastly, make sure that the hijinks end at a reasonable time, and not go past 9:00 pm.
Now that you are armed with all this knowledge, it is time for me to go pick out my outfit for October 17th, National Wear Something Gaudy Day!




by







by