Celebration Of Humanity…
Live Meaningfully – Ayesha G. Shenk, M.A.
My husband and I recently took the kids to see The Greatest Showman. Though I was looking forward to seeing it, I must admit I felt a bit of trepidation:
Is our eight-year-old still going to enjoy this after an hour into singing and dancing, when all the candy and popcorn is gone?
Is my husband's back going to be able to tolerate these (very front row) seats, due to our late arrival?
Is the depiction of 'circus folk' going to hurt my feelings?
Did P.T. Barnum exploit and sensationalize people in a vulnerable population?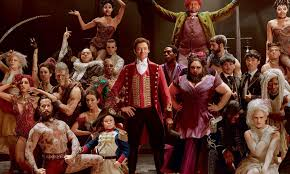 And then it began… and this interesting and unexpected world of oddities and eccentricities began to unfold and capture the imagination and interest of all four of us. Different ages and genders, different interest and measures… it was indeed a sight to behold.
(To be fair, I can't say that the true story of P.T. Barnum is quite as inspirational and inclusive as this was, but for the sake of this discussion, let's assume that we're referencing the movie exclusively.)
For an hour and forty-five minutes what lit up the screen was a world in which even the most out-of-the-ordinary individuals found a place to call home and a family to whom they belonged. The characters lit up the screen in their unique and extraordinary ways and the world, for them, became a little bit bigger and more kind.
Most of us swing wildly between feeling like we need to do something to help the marginalized groups in society to then putting them out of our minds completely due to the discomfort it causes. Perhaps there is a lesson here in empathy, acceptance and another possibility…
The irony, of course, is that if we're really being honest – most of us have felt like one of the 'odd men out' at some point or another in our lifetimes. We have all been the person who is too small or too big, had too much hair or not enough, too heavy or too lanky, too light or too dark… Most of us have felt insecure, excluded or ashamed of who we are at one time or another.
And yet, if that is true – how quickly we are to forget. How easy it is for us to not extend grace, empathy and acceptance when we're safely on the other side.
The message, most salient to me, from The Greatest Showman was one of empowerment and of love. It offered a sense of place and grace to even the quiet place of shame or alienation that all of us have felt at some point throughout life. It sang from the rooftops a note of sweet self-acceptance and worthiness and it provided an example of what it means to love oneself enough to claim that which is true and beautiful within.
When the sharpest words wanna cut me down
Gonna send a flood, gonna drown them out
I am brave, I am bruised
I am who I'm meant to be, this is me
Look out 'cause here I come
And I'm marching on to the beat I drum
I'm not scared to be seen
I make no apologies, this is me
 
And I know that I deserve your love
There's nothing I'm not worthy of
When the sharpest words wanna cut me down
I"m gonna send a flood, gonna drown them out
This is brave, this is proof
This is who I'm meant to be, this is me
No matter who you are or through what you've come – I offer you this:
You are brave, you are true, you are enough, you are who you're meant to be.
This is me.
Till the next time,
Be Well; Live Meaningfully.
Ayesha
Ayesha G. Shenk, M.A. practices at 2150 Park Avenue North as a Licensed Mental Health Counselor and can be reached at www.livemeaningfully.net or 407-796-2959.






by





by