The Center Remembers Pulse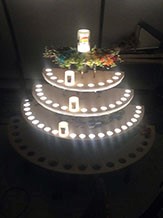 The Center became the focus of international attention last year after the Pulse nightclub shooting, providing a safe haven for the Orlando community, those grieving, and those needing assistance. The Center's services were made challenging with global media and over 600 people per day crowding into the small facilities near downtown Orlando. A year later, the Center continues to be unwavering in its commitment to serving the LGBT community as it has for 39 years.
On June 12th, The Center will be unveiling its new facilities, a space with over 7,000 square feet, which includes multiple testing rooms, conference rooms, a cyber center and a Grand Room, which will host community events and support groups. On this day, The Center will also premier its new HIV mobile testing unit, which will help the Center better serve the community. This unit will also act as a mobile command center for many of the events taking place on June 12.
Over the Pulse memorial weekend, the Center is hosting and/or is a part of multiple events in Central Florida. 
Monday, June 12th – All Day, The Center, 946 N. Mills Avenue, Orlando, FL 32803 

9:00 AM – Orlando Police Department Chief John Mina and staff will be at The Center to serve breakfast to the community and light a special memorial display inside of the NEW Center Building at 946 N Mills Ave. The Center will open at 8 am on June 12 for people to arrive. 
A special art installation to honor the 49 victims which is 8 feet tall and 7-feet wide and contains proprietary candles adorned with each victim's image, rainbow flowers and lilies. This will also be the first time the community will get a glance at the new LGBT Community Center that has been under renovation for the past two years.
The new facility will be filled with art, banners, and special displays that have been arriving at The Center over the past year. There will also be counselors on site all day and food supplied throughout the day by Mediterranean Blue, Jimmy Johns, First Watch, Spoleto's and Tijuana Flats for the community.
As well as the above, The Center will be on site, with its mobile command center and Angels, at the following locations on Monday, June 12:
1:00 AM – Pulse Nightclub
10:00 AM – Orange County Administration Building for the unveiling of the Sea to Sea Flag
11:00 AM – Pulse Nightclub Vigil
7:00 PM – Lake Eola – Orlando United Day Memorial
11:00 PM – Pulse Nightclub Memorial
Lindsay Lynch is an artist who became an entrepreneur with a passion to invent products to help those who are grieving or mourning the loss of a loved one.
Her passion comes from her own personal tragedy which she overcame by pouring her heart into her art. Determined to help others, she created Inner Core Systems LLC and began using the DBA of Light Living Treasure. Designing products with the sole purpose of helping others cope with their pain. Knowing how important it is for others to interact with grief when her community hit times of massive loss she dedicated her passion to help the families and survivors of Pulse Nightclub. Bringing her family, friends, and a few local companies together to help create a Massive Candle Memorial in honor of the lives lost on June 12, 2016. Beautiful Window Dressings, Orlando Florist, Candle Capsule, all contributed to this amazing display of passion and love.
The Center will also be taking a role in other memorials that will also be happening over this coming weekend, they include: 
June 8th 1:00 pm – 2:00 pm Orlando VA Medical Center, Lake Nona Campus, 4th Floor Main Auditorium 
Orlando Veteran's Administration Pulse Memorial Service envisions to promote healing and hope through art, music, prayer, and connection. Guest speakers include Orlando City Commissioner Patty Sheehan, Orlando VA LGBT Veteran Care Coordinator Keri Griffin, Orlando VA Chaplain Marvin Luckie, and a performance by the Orlando Gay Chorus.
June 8th 4:00 pm – 6:30 pm – UCF Remembers and Candlelight Memorial
June 9th 3:00 pm The Center, 946 N. Mills Avenue, Orlando, FL 32803 
Flag ceremony to lower the American and LGBT flags to half-staff for the weekend.
June 11th 3:30 pm – 5:30 pm Orlando Repertory Theatre, 1001 Princeton Street, Orlando, FL 32803
The Central Florida Sounds of Freedom Presents "We Are Americans", celebrating the culture, diversity and history of Our Nation "We Are Americans" is a musical and visual journey through the fabric that is our nation. The Center's Angel Force will be in attendance.
June 11th 7:00 pm – 9:00 pm The Abbey, 100 S Eola Dr #100, Orlando, FL 32801 
The Dru Project (www.thedruproject.org) will host its official launch party and memorial to honor Pulse victim Christopher Andrew "Drew" Leinonen. At the party, the organization will take time to reflect on the all-too-brief life of their friend Drew, as well as give out the first "Spirit of Drew" scholarship for $1000. The Center will be providing Angels for the event.
Additional parking for The Center on June 12 can be found at CFE Credit Union and Track Shack's parking lot on the corner of Mills and Oregon.
The Center would like to thank its partners who without their help, we would not be able to do all the events we are doing, this includes, Costco donation 2,000 bottles of water, The Lovely Boutique, Whole Foods, and Natural Vitality who are all donating a portion of their proceeds of sales on June 12 to The Center for the cleaning and upkeep of the Angel uniforms.




by







by