Chief Security Officer As A Service In High Demand For SMBs
Cybersecurity Awareness – By Ron Frechette, The Cyber Coach
A majority of small and medium size businesses (SMBs) are being pressed by their larger clients to show proof that they have a formal, ongoing cybersecurity program in place in order to continue their business relationship. The request for this information typically comes in the form of a letter that has a security questionnaire attached.  These questionnaires are quite lengthy and ask numerous detailed questions about the security posture of an organization.
The biggest challenge for many SMB owners is not having a qualified resource on staff who can answer the questions accurately and, more important, is able to build and manage a formal cybersecurity program.  Hiring a full time cybersecurity professional is typically not an option for SMBs due to salary requirements and the global cybersecurity  workforce shortage.  There is, however, a highly cost effective program management solution that has emerged and is gaining considerable popularity throughout the SMB world called, Chief Security Officer as a Service℠ (CSOaaS℠) or Virtual Chief Security Officer (vCSO) services.
CSOaaS℠ was created for SMB business owners who need an experienced security executive on staff but are not quite ready to bear the expense of a full-time employee. The CSOaaS℠ model provides SMBs access to an entire network of world-class CSOs for a fraction of the cost of a full time employee.  This model has proven to be extremely valuable to SMBs.
Key Benefits of CSOaaS℠
Expand and Contract Model – The  CSOaaS℠  solution is designed to scale up or down depending on the needs of an organization and can be set up on a project or subscription basis to help spread the cost over time.
Cyber Security Thought Leadership – A CSO who will enhance thought leadership, provide a third-party perspective to appropriately align cyber security strategies with corporate priorities, and enable the business to bring a higher degree of focus, execution, and continuity to cyber security program initiatives in a highly cost-effective
Enterprise Collaboration – A CSO who collaborates with all stakeholders from the board level down to the technology, operations, and business management teams to develop the enterprise security vision, strategy, and operations needed to adequately protect information assets and create a cyber security conscious culture.
Industry Specific Experience – A CSO who will have the proper credentials, skills, and experience that align with the industries an organization works within. This significantly reduces the learning curve related to the applications, architecture design, policy/procedure development, mobile security policies, and compliance frameworks (ex. PCI, HIPAA, SOC, ISO, GLBA) that are deployed throughout the organization.
World-Class CSO Network – A CSO who has the power to leverage an entire network of Chief Security Officers who provide a wide variety of security, privacy, and compliance expertise to the clients they serve.
CSOaaS℠ Services Offered
Policy Development – Develop IT and security policies to achieve compliance and increase the security of the organization through defined and repeatable processes.
Compliance Readiness & Management – Identify, plan, manage, and budget for the readiness and adherence to cybersecurity compliance programs, as applicable to the organization.
Vendor Management – Work with existing and prospective vendors to ensure they are compliant with security best practices and compliance objectives.
Business Continuity & Incident Response Tabletops – Prepare and perform business continuity and incident response tabletop exercises for the company to ensure a solid business continuity plan is in place and proper incident handling is covered should it become necessary.
Budgeting – Assist in budget preparation for overall cybersecurity staffing, training, compliance, implementation, etc.
Technology Selection – Assist in selection of security technologies, to include remote monitoring, SIEM, Endpoint Security, and more.
CSOaaS℠ Maturity Model
It's understood that security is not something that can ever be fully implemented due to the threat landscape constantly changing. This is why we say it's a journey, not a destination.  Having a CSOaaS℠ program management solution in place assures that an organization progresses  through the security maturity model, building a more secure organization from the ground-up.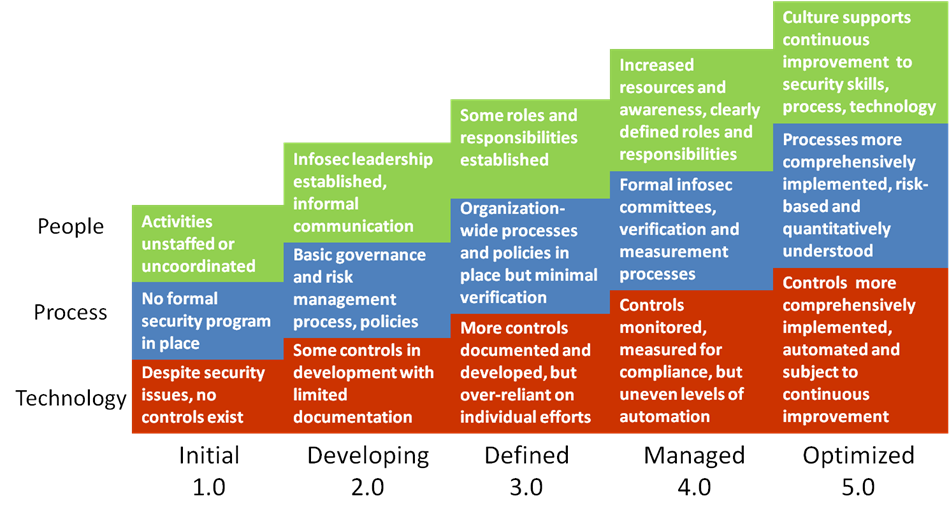 The Digital Age is transforming the way the entire world conducts business.  The security auditors of large enterprise companies have determined their vulnerabilities lie primarily within the SMB vendors who have access to their networks and data.  Adhering to third-party vendor compliance requirements will only increase over time.
It is paramount for small-midsize businesses to take action to maintain existing clients and remain competitive. The  CSOaaS℠ program model is proving to be an effective solution for the SMB world.
Until next month, wishing you a safe and secure journey in cyberspace!
Questions?  Send me a tweet: @GoldSkyRon or email: ron.frechette@goldskysecurity.com




by







by