How A Comic Book Changed History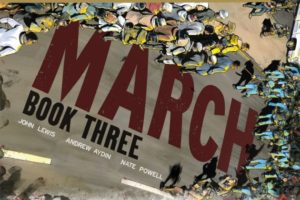 Pop Culture Detours – By George McGowan
For many readers of a certain generation, their first foray into reading- that is, reading that was not assigned to them in a classroom- was through comic books. But did you know that a specific comic book changed the course of history? The story of this important comic book is just one of many stories of the history of the U.S. Civil Rights Movement included in the graphic novel "March: Book Three" written by U.S. Congressman John Lewis and Andrew Aydin and illustrated by Nate Powell.
Graphic novels use the comic book storytelling form to tell more sophisticated stories through distinctive artwork and the powerful combination of images and words. In some noteworthy cases, the graphic novel has been used very effectively to tell personal stories while interweaving them into important events in our history.
In the first book of "March" – the wonderful three volume memoir of Congressman Lewis' actions and interactions in the early days of the civil rights battle, Mr. Lewis shares that one of his mentors, James Lawson, introduced Lewis to the comic book "Martin Luther King and the Montgomery Story." This 10 cent comic book depicted the power of the philosophy and the discipline of nonviolence that was espoused by Dr. King. Interestingly, the 1957 comic book is available online in a scanned version at the King Institute Encyclopedia project, which is hosted by Stanford University. The comic book inspired Congressman Lewis to become more active in the cause and can be credited with Mr. Lewis remaining steadfast in his use of the nonviolent methods of Dr. King to effect change. Mr. Lewis went on to work on the front lines of the effort and he shares his story in "March" trilogy. Each volume of "March" is aesthetically brilliant and required reading for anyone interested in this unique period in American history. But don't just trust me, "March: Book Three" debuted at #1 on the New York Times bestseller list and brought the whole trilogy into the top three spots, which they held for six continuous weeks. Plus, on November 16, 2016, "March: Book Three" won the National Book Award for Young People's Literature. It is the first graphic novel to ever receive a National Book Award.
"March" is just the latest of at least three recommended distinctive graphic novels depicting an historical event. The others are "Persepolis" which details Marjane Satrapi's life during the war between Iran and Iraq, and "Maus" by American cartoonist Art Spiegelman. "Maus" uses the framing device of Spiegelman interviewing his father to present in uncompromising terms his father's experiences as a Polish Jew and Holocaust survivor. "Maus" is an amazing tour-de-force of memoir, biography, history, fiction, and autobiography. But again, don't trust me – in 1992 it became the first graphic novel to win a Pulitzer Prize.
For the comic book aficionados out there, you are welcome. You can now tell your friends that your support of the comic book industry helped to (at least indirectly) change the course of history.




by







by