Commissioner Edwards' Message – November 2016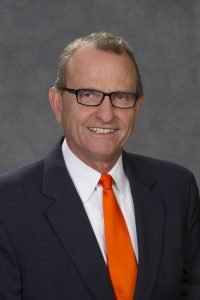 Ensuring the health and safety of you and your family is my top priority as an Orange County Commissioner.  One area the county has been focusing on lately is the spread of the Zika virus.  This virus has affected many in the developing world and county staff has been working diligently to prevent the virus from affecting Orange County residents.  This month, I would like to inform you on our Zika prevention efforts and share some tips you can use to help us control the spread of this virus.
Zika is an illness primarily spread by bites from the Aedes ageypti and Aedes albopictus species of mosquitos.  It was first identified in 1947 in animals living in Uganda.  The first human cases were detected in East Africa in the 1950s and the first large outbreak of the disease occurred in 2007 on the Island of Yap in Micronesia.  Zika can also be transmitted sexually.  In adults, the virus typically produces mild symptoms including fever, rash, joint pain, conjunctivitis, muscle pain, and headaches for up to a week.  However, recent outbreaks in Latin America have shown increased risk of birth defects for children should their mother contract the virus while pregnant.  Scientists now believe Zika infection during pregnancy can lead to severe birth defects for a child, including microcephaly (a condition due to lack of brain development), and impaired vision, hearing, growth, and other nervous system impairments.
Orange County Mosquito Control conducts regular abatement efforts to reduce the general presence of nuisance mosquitoes. The county is focused on removing the breeding habitats in order to disrupt the life cycle of the Aedes albopictus and Aedes aegypti mosquitoes. We also perform controlled/localized spraying from the ground level in areas where there is a high risk. Abatement efforts are conducted at night when mosquito activity is at its peak.  The materials used in abatement efforts are similar to the ingredients found in most flea and tick treatments and quickly break down in sunlight.  Orange County concentrates efforts in areas where the two mosquitoes known to carry the Zika virus have been identified as well as in areas where other mosquito populations are high.  In contrast to other species of mosquitoes, Ae. ageypti and Ae. albopictus mosquitoes often breed in small containers of water such as bird baths, flower pots, garbage lids and even bromeliads.
Orange County has recently received questions regarding aerial spraying and the use of a chemical called naled which is used for controlling adult mosquitoes. Naled is only used in aerial spraying. At this time, Orange County Mosquito Control is not employing aerial spraying.  Aerial spraying can be an effective tool under certain circumstances and is used in many communities, especially for the control of mosquitoes known to transmit West Nile Virus and Eastern Equine Encephalitis, as well as other nuisance species.  All materials used in aerial spraying are approved by the Environmental Protection Agency and the Florida Department of Agriculture and Consumer Services.  However, Orange County has not used aerial spraying since 2010.
You can help control the spread of the Zika virus.  Be sure to "tip, toss, and cover" containers or lids which hold even a small amount of water.  Be sure to empty both outdoor and indoor containers.  Wearing long sleeved shirts and pants will also help reduce bites from Ae. ageypti and Ae. albopictus.  Be sure to apply insect repellent should you plan to spend time outdoors.  Use screens on windows and doors. Repair holes in screens to keep mosquitoes outside. Currently, there are no reported locally transmitted cases of the Zika virus in Orange County. However, county staff will continue to monitor this and other mosquito-borne illnesses closely.
Please visit www.ocfl.net/zika for the latest information as well as a helpful three-and-a-half minute mosquito safety video that demonstrates how you can safeguard your home or business. In addition, frequently asked questions, a flier, and a variety of other materials are available in four different languages to help educate you and others on ways to mitigate the spread of the Zika virus and other mosquito-borne illnesses.  As always, if you have any questions about Orange County's efforts to combat Zika or any other county issue, please feel free to contact me or my aides, Edgar Robinson and Liz Roby.  We can be reached at 407-836-7350 or by email and district5@ocfl.net.






by





by