Commissioner Stuart – August 2017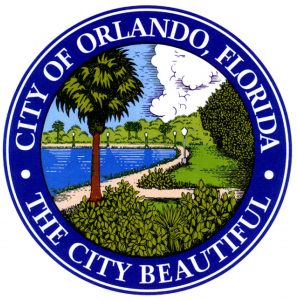 As our city and residents gear up for back to school, I am glad to give an update on what is happening in Orlando.
We had our budget workshops in July and our city is very healthy financially.   While the final vote on next year's budget will be September 25th, I can report that the mayor has asked that the Council vote to keep our city's tax rate the same at 6.65 mils. For more information, please visit cityoforlando.net/budget or feel free to attend one of the two budget public hearings taking place at 5 p.m. Wednesday, September 6th and Monday, September 25th in the City Council Chambers.
The mayor gave his State of the City address on July 21st and while he touted the many amazing accomplishments that have occurred during the last 10 years, he also outlined a blueprint to address the challenges that have come with the transformation of our city…he called this our "inflection point," the point where we have truly transitioned from a place where people always want to visit into a place where so many people also want to live and do business.  But as Mayor Dyer pointed out, with these incredible opportunities come growing pains around public safety, quality housing, multi-modal transportation, economic diversification, and enhancing amenities for all.  I was heartened that the mayor has heard the advocacy from our council and is supporting the hiring of 15 new police officers this year and 15 new officers next year to make sure our public safety resources keep up with our growth.  The City is also working on obtaining a grant that would be earmarked to fund 15 more officers specifically to work in the Downtown Bike Patrol Unit as we celebrate the opening of the UCF/ Valencia downtown campus in 2019.
Mayor Dyer also discussed the often tedious, behind-the-scenes work of our planners… while one development project gets media attention as if in a vacuum, it is truly a piece of an intricate puzzle that may take years to be realized and fulfilled.  He used the example that Mayor Hood's idea to turn the Navy Base into Baldwin Park was highly criticized at the time; but now almost 20 years later, Baldwin Park is a thriving, highly desirable, walkable, urban neighborhood. I highly encourage you to read or watch the mayor's speech in its entirety at cityoforlando.net/mayor  
As a father of two and grandfather of five, all who live right here in the City of Orlando, there is nothing more important to me than public safety. With that in mind, I am excited to once again partner with the Orlando Police and Fire Departments for our annual District 3 National Night Out kickoff celebration.  Please come and join us on August 9th from 6-9 p.m. at the College Park Community Center (2393 Elizabeth Avenue) as we make learning about public safety fun for the whole family with the District 3 "Safety Splash."  The pool will be open for evening swimming and OPD and OFD will be out in full force. Additionally, OFD has been gracious enough to open Fire Station 3, conveniently located across the street for fire truck exploration and fire station tours. This will be a great night to learn about how to keep our families safe in a fun learning environment.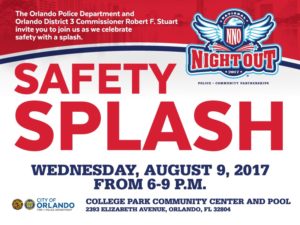 Our Orlando Main Street districts are hosting their third annual Orlando Main Streets Restaurant Week August 4 – 12, 2017 to promote our culinary diversity.  Restaurant Week encourages restaurant members to offer a select prix fixe menu with established price points. No tickets or passes are required. Foodies can try something new at their old favorite or try a great new restaurant. Visit orlandomainstreets.com for participating restaurants and more detailed information.
As a lifetime Orlando resident, I get so enthralled talking about Orlando's history.  We really do have a unique story to tell, not only about our past, but about our wonderful City of today and the one of the future as well. With that in mind, Mayor Dyer recently announced that like other major cities, he wants us to have our own Poet Laureate to be our official storyteller, promoting poetry, literature and literacy in our community and in our schools. If you or someone you know are interested in the position, applications will be taken through August 7th.  For information on the process and the panelists, visit unitedarts.cc/poet-laureate
August means back to school for many youth and families in our community.  I want to congratulate all of our District 3 schools for continuing their high standards of student achievement.  Part of what makes all of these schools special is their high level of community involvement.  Please consider learning more about what each of these schools does and getting personally involved by visiting ocps.net or cityoforlando.net.volunteer.
As always, thanks for your support of our district and our Great City!  Enjoy the rest of your summer living, working and playing in Orlando.
Robert






by





by