Commissioner Stuart – December 2018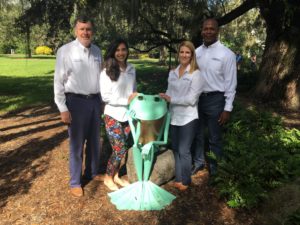 Holidays are just around the corner and I wanted to take the time to wish you and your loved ones a happy and safe holiday season. This is my favorite season of the year because there are so many ways to spend time with family and friends. Keep reading for fun things to do in December!
A wonderful way to spend time together is at Leu Gardens. J.A. Cobb's Ribbit the Exhibit II is back and it is displayed throughout the 50-acre gardens from now until January 31, 2019.  This exhibition features 26 copper frog sculptures located in 18 displays throughout the gardens. Take a picture in front of "The Thinker" and tag us on Facebook, we love to see our residents supporting our local City jewels. For more details, please visit https://www.leugardens.org/
Lake Eola is lit up for the holidays, so come downtown  and enjoy an evening walk around the lake, some great dining, concerts at the amphitheater, movies on the lawn, and more. Throughout the entire month of December, downtown Orlando is offering free holiday movies for all to enjoy! On December 7 grab a blanket and come watch The Polar Express at 7 p.m. at Lake Eola. If you miss that one, don't worry, you can catch Disney's Santa Clause on December 15 at 7 p.m. You can also watch National Lampoon's Christmas Vacation Friday, December 21. For more information visit Lake Eola's Facebook page.
Loch Haven Cultural Park is a great place to visit and spend a quality afternoon with the arts and sciences, with a holiday twist.  Check out our city's Parks & Recreation website to start your journey.
The Amway is also full of holiday events.The Cirque Musica Holiday presents Wonderland plays for one spectacular evening on Tuesday, December 18 at 7:30 p.m. Tickets are on sale now. This is a fun-filled and high-flying concert experience for the entire family featuring the talented cast of Cirque Musica accompanied by holiday songs performed by a live symphony orchestra, amazing acrobats, aerialists, hilarious hijinks, and holiday cheer.
On Saturday, December 8, enjoy the Winter Spark in Baldwin Park festival and parade in the Baldwin Park Village Center.  The festivities begin at 4 p.m. with the parade starting at 7 p.m. Please visit Baldwinparksevents.com
Enjoy the Eola Wonderland Christmas Tree Show every night in December through Saturday January 5 at 5:45 p.m.; 6:45 p.m.; 7:45 p.m.; 8:45 p.m. and 9:45 p.m.  The Eola Wonderland 72-foot Christmas tree will come alive with a synchronized light and music show while the Lake Eola fountain displays red, green and gold lights.  Also, make sure to stop by the Eola House and take your picture with Santa  between Friday, November 30 – Sunday, December 23,every Friday and Saturday from 4:30-9 p.m. and Sunday from 5-8 p.m. For more details, please visit www.cityoforlando/events.
Another great way to spend time with your family before the new year is at the Florida Citrus Bowl Parade on Sunday, December 29th on Rosalind Avenue, between Central Avenue and Robinson Street. The parade will feature signature citrus floats, marching bands from across the county, and family fun in downtown Orlando.
Please know that I am grateful to be your city commissioner and I love working with each and every one of you. Thank you for your continuous support to District 3. Merry Christmas and best wishes to you and your family for 2019!






by





by