Commissioner Stuart – March 2018
Although the climate in Orlando doesn't undergo dramatic seasonal changes, the arrival of spring each year signals a reawakening and encourages us to live in the moment and enjoy life. I think that may be why spring break was invented!
Your kids can enjoy spring break at one of the many camp opportunities around our city and you can rest assured knowing your children are having fun and are safe during the time that school is out! The Orlando Science Center is offering a full day of STEM activities, exhibits and so much more! This program offers children the chance to learn more about the environment in an exciting and interactive way. This program is open for students from kindergarten through fifth grade. For details and prices please visit osc.org/breakcamps
In order to offer community support, our city's recreation centers all offer spring break camps as well at a very reasonable rate of $8 per day for City residents (two proofs of residency required).  For more information, visit cityoforlando.net/fpr.
Another great program for children from the ages of 6-13 is the Orlando City Soccer spring break camp.  From March 19th-23rd, players at all experience levels are welcomed and children can better their soccer skills in a fun and safe environment. Each camp session consists of technical station training and scrimmages, featuring club coaches and Orlando City Soccer and Academy player appearances. For questions and information, contact camps@orlandocitysc.com.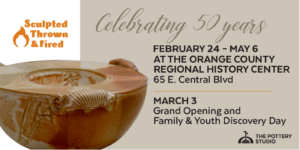 The Orlando Skate Park is also hosting a spring break skate camp starting March 19th from 9:00 a.m. to 2:00 p.m. This program will teach children basic skate boarding skills while focusing on fun and safety. Don't forget to bring your own equipment! For more information please call 407-246-2800.
The City of Orlando's Pottery Studio is celebrating their 50th anniversary! This esteemed occasion is being lauded with a new History Center exhibit entitled "Sculpted, Thrown and Fired: Celebrating 50 Years at the Pottery Studio," which presents a wide variety of works created at the studio during the past half century. The exhibition also tells the story of the studio's history and its beginnings. The Grand Opening is being celebrated with Family and Youth Discovery Day on Saturday, March 3rd from 10 a.m. to 5 p.m. Families are encouraged to attend and working together making cool clay projects. Bank of America and Merrill Lynch treat their cardholders to free museum admission.  The exhibit runs through May 6th.  For details, visit http://www.thehistorycenter.org/exhibition/pottery-studio
We are also asking for your assistance and partnership this spring season by helping to keep all of the fallen leaves out of storm drains and lakes. As the last of the leaves fall, please make sure to "bag it, don't blow it!" If leaves are blown into streets, sidewalks or storm drains this can hurt your neighborhood. They can clog the storm drains, which will cause flooding. Once there, all of the leaves will end up in your local lake causing algae to grow and harm our water quality. To learn more about leaves and their different seasons please visit cityoforlando.net/stormwater.






by





by