Commissioner Stuart – March 2019
The weather is getting warmer, which can only mean one thing… Spring Break is right around the corner! Read on for fun ideas to keep your kids busy and for ways to enjoy all our area has to offer.
Your kids can enjoy their school break at one of the many camp opportunities around our city and you can rest assured knowing your children are safe and having fun.
All of our city's recreation centers offer spring break camps at a very reasonable rate of $8 per day for City residents (two proofs of residency required).  For more information, visit cityoforlando.net/recreation/community-centers.
The Orlando Science Center is offering a full day of STEM activities, exhibits and so much more. This program offers children the chance to learn more about the environment in an exciting and interactive way. This program is open for students from kindergarten through fifth grade. The best part about this camp is that the break camps run from 9:00 a.m. to 4:00 p.m. and early and late care are provided for our working parents. For details and prices, please visit osc.org.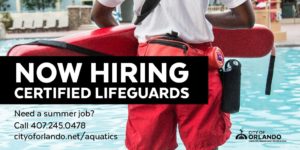 The Orlando Museum of Art also offers a Spring Break Camp beginning Friday March 15th and running through Friday, March 22nd.  Kids will create their own masterpieces as they travel through time during different theme days. Visit omart.org for details.
The Orlando Skate Park (400 Festival Way) is also hosting a spring break skate camp starting March 18th from 9:00 a.m. to 2:00 p.m. This program will teach children basic skate boarding skills while focusing on fun and safety. Please make sure they bring their own equipment! For more information, please call 407-246-2800.
Keep your kids busy this month at our Orlando Pottery Studio, Leu Gardens, Bill Frederick Park at Turkey Lake, or the Orange County Library. At the pottery studio, the kids clay workshops allow children to create their own sculptures. This is a fun arts project for a birthday party or just a fun day during their break! To learn about pricing and availability, please visit orlando.gov/Community-Programs-Events/Pottery-Studio/.  At Leu Gardens, enjoy a day outdoors searching for all of the hidden garden gnomes hiding throughout the 50-acres of botanical gardens.  Visit leugardens.org for all of their fun events and activities.  At the City's 183-acre Bill Frederick Park at Turkey Lake, families can rent boats, fish, play disc golf, camp, swim and visit a petting zoo. Visit orlando.gov and search for Bill Frederick Park for maps, rental information and a list of many more great amenities.  The Orange County Library truly offers something for everyone and their reach is so much further than merely books.  Visit ocls.info for information about classes, meet ups, camps and more that are offered during Spring Break and all year round throughout your library system.
For our older youth who are looking for summer employment, the City's Aquatics Division is now hiring lifeguards for our numerous City pools. The City offers competitive salaries and hours. Call 407-245-0478 or visit cityoforlando.net/aquatics for details.
As always, thank you for your continued support and I look forward to seeing you around town this month!
Robert






by





by