Commissioner Stuart – September 2019
As summer ends and back to school begins, I hope you and your family had a happy and safe Labor Day! This year marked the 125th anniversary of this day being celebrated as a national holiday- a holiday which serves to remember the social and economic achievements of American workers.  To all of you who work locally here to make our community a better place to live, work, play, and raise a family, thank you!
As schools begin to settle into their patterns, our Orlando Police Department is still looking for energetic individuals with flexible schedules to serve as school crossing guards at multiple locations.  Please contact Traffic Safety Supervisor, Danielle Campbell, at 407-246-2814 for more information or an application.
September also serves as the last month before the City's new fiscal year begins on October 1st. The proposed 2019/2020 budget is based on maintaining our current millage rate of 6.65, which has been in place since 2014.   Property taxes are calculated from the taxable value of your home (determined by the Orange County Property Appraiser) and the City's millage rate. Two public budget hearings will take place this month and all are welcome to provide comments to the Mayor and City Council: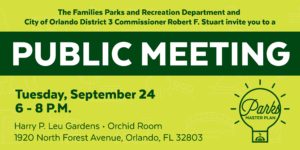 Tuesday, September 3, 2019: Budget Hearing – 5:01 p.m. Orlando City Council Chambers                          
First public Budget Hearing to adopt proposed millage rate for Fiscal Year 2019/2020, and establish a tentative budget and Capital Improvement Program.
Monday, September 16, 2019: Budget Hearing – 5:01 p.m. Orlando City Council Chambers
Final public Budget Hearing to adopt the millage rate for Fiscal Year 2019/2020, and set the budget and Capital Improvement Program.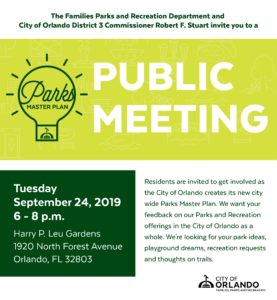 October 1, 2019: Implementation of fiscal year 2019/2020 adopted budget.
If you would like additional details about the City of Orlando's budget, Please visit Orlando.gov/budget.
The Orlando Fire Department will host its annual 9/11 Remembrance Ceremony on Wednesday evening at 7 p.m. at Fire Station One, 78 West Central Blvd.
Mayor Buddy Dyer and his Veterans Advisory Council will also host the annual POW-MIA ceremony to honor United States Military prisoners of war and those still missing in action on Friday, September 20 at 11 a.m. at the City Hall Rotunda.
Cadets from AFROTC Detachment 159 from the University of Central Florida will lead a symbolic "setting of the table" where each item on the table represents the commitment we have to remembering our POW-MIAs from our five military branches: Army, Navy, Marines, Air Force, and Coast Guard.
Our Families, Parks and Recreation Department has hired a consultant to create a new city-wide Parks Master Plan and they want your feedback!  We are hosting a public meeting this month in District 3 to hear from the community on what kinds of ideas they have for our parks, fields, community centers, trails, playgrounds and more.  Please join us for this meeting on Tuesday, September 24th at 6 p.m. at Leu Gardens (1920 N Forest Ave).

On September 26, 2019, at 10 A.M., Mayor Dyer, Orlando Fire Chief Richard Wales, and the American Heart Association will host a county-wide Hands-Only CPR training session throughout all Orange County Public Schools in recognition of World Heart Day. Specifically, at Boone High School, hundreds of students will gather in the gym with firefighters as they teach life-saving skills on mannequins while informing the students of the signs and symptoms of cardiac arrest. This is part of our Take Heart Orlando campaign, which envisions a city where every resident has the knowledge, skills and ability to recognize and treat sudden cardiac arrest.  For more information, or to have our firefighters teach a class at your group's next meeting, visit orlando.gov/fire.
It's that time of year again for Hispanic Heritage Month. Please join us for Hispanic Heritage Month Kickoff – "Hispanic Americas: A History of Serving Our Nation," on September 12th from 5:30 to 7:30 p.m. in the City Hall Rotunda.  This event celebrates the commencement of Hispanic Heritage month, which runs from September 15 to October 15, 2019 and recognizes the culture and traditions of U.S. residents who trace their roots to Spain, Mexico and the Spanish-speaking nations of Central America, South America and the Caribbean. For more information, please visit Orlando.gov
I look forward to seeing you out and about this month. If you need to reach me, please drop me a line at robert.stuart@orlando.gov.
Robert




by







by