Donations Needed For 15U Baseball Team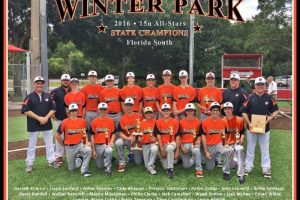 As you all know, winning also comes with a price.  The City of Winter Park's 15U Babe Ruth Baseball Team started playing their regular season in March, and their tremendous success has them still playing in August, and headed to Rocky Top Regional Championship near Memphis, TN next week, July 26-31.  Recently, the team won the District Championship, and the State Championship with a collective 66-12 run margin!  The families are kindly asking for donations to help offset next week's trip, as well as the strong possibility that this talented team will then win the honor of representing the City of Winter Park at the Babe Ruth World Series in North Dakota in mid-August.
If you, or your company are able to help out, please visit their Go-Fund-Me Site at www.gofundme.com/WP15UAllstars.
These boys are having a summer they will always remember, and your support in helping them and their dedicated families would be greatly appreciated.
Go Winter Park!






by





by