Don't Let The Grass Grow Under Your Feet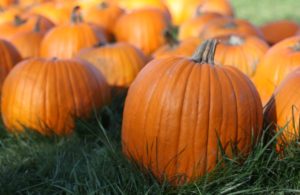 Editor's Message – By Tricia Cable
Ah…fall, the sound of the Wildcat marching band practicing in preparation for home football games at Showalter Field, the evening breeze is at least a few degrees cooler, pumpkin spice everything is available everywhere, and if you listen closely you may hear the distant whine of chain saws struggling to cut through oak…hurricane recovery is underway.   I know it's slow, stinky, and incredibly unattractive in our city right now, but before you know it all the debris will be cleared and we will be carving pumpkins and donating candy to the troops.
The same cannot be said for others impacted by the most recent hurricanes.  Our two-week interruption can't hold a candle to those who have lost so much with months and months of recovery in front of them before even the hope of things getting back to relative normalcy.  Please be sensitive to the large number of people in need of help at the moment and do what you are able to assist with donations and contributions.  In some instances, it will literally take an army.
It truly is heartwarming, the outpouring from those who come to the aid of others when needed.  Neighbors helping neighbors; whether across the street, county, state, country, national border or international water ways.  Never thinking to ask who they voted for in the last presidential election before lending a hand.  No hesitation, just "What do you need?" or "How can I help?"
We need a lot more of that and a whole lot less focus on that which divides us.  I don't care which God you pray to, if at all; which flag you salute, who you marry, or how you parent.  I have that luxury because I live in a country governed by a constitution that affords me the right to think whatever I want, feel however I choose, and say whatever I want to say.  And you have the right to disagree with me.
I respect our differences.  I surround myself, either intentionally or accidently, with people not like me…too much of me is not a good thing. I learn something new from someone in my circle every day.  Whether it's an old Greek family recipe from a friend, a new and improved way to exercise patience from a co-worker, or a lesson in compassion from a client; I am on a journey to improve upon who I was last year, last week, or ten minutes ago every day.
I saw a social media post from someone the other day and it said something to the effect of "If you know me based on who I was a year ago, you don't know me at all." And isn't that the truth?  We are all products of our environments and the landscapes of our environments are constantly changing and promoting growth.  Don't let the grass grow under your feet, evolve into a better version of yourself!






by





by