Drone Racing League & Lockheed Martin Launch Artificial Intelligence Robotic Racing (AIRR) Event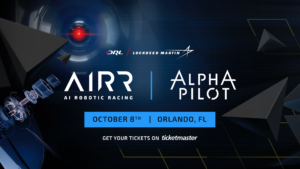 Drone Racing League & Lockheed Martin Launch Artificial Intelligence Robotic Racing (AIRR) Event
The Drone Racing League (DRL), a global professional drone racing circuit, will host the first-ever standalone Artificial Intelligence Robotic Racing (AIRR) event at Addition Financial Arena (formerly CFE Arena) on Tuesday, October 8 starting at 5:00 pm. During the live autonomous drone race, high-speed, self-flying drones will go head-to-head through an obstacle course for a chance to win a $1 million cash prize, sponsored by Lockheed Martin.
In AIRR, artificial intelligence (AI), developed by the nine winning teams of Lockheed Martin's AlphaPilot Innovation Challenge, will operate autonomous racing drones through obstacles without GPS, data relay, or human intervention.
Complementing the 2019 DRL Allianz World Championship Season where elite pilots race identical, custom-built DRL drones, AIRR will test the speed, strategy and skills of AI technology as applied to standardized autonomous DRL drones. Each self-flying drone is equipped with an onboard NVIDIA Jetson AGX Xavier, the platform for AI at the edge.
"We're incredibly excited to kick off our AIRR Circuit at UCF, one of the most innovative schools in the country," said DRL CEO and founder, Nicholas Horbaczewski. "Students will experience the thrill of autonomous drone racing, a competitive robotic sport that accelerates AI innovation and pushes the boundaries of autonomous flight."
In addition to the $1 million cash prize for the fastest autonomous drone, an additional $250,000 reward will be given to the first team whose autonomous drone pushes the limits of performance between human and machine and defeats a DRL pilot.






by





by