Editor's Message – August 2016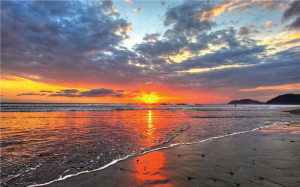 On Your Mark, Get Set, Go!
By Tricia Cable
The countdown to a new school year has begun and I don't know about you, but I am fairly confident that I am not ready.  I find myself still looking forward to my summer vacation that as of today, still eludes me!  Fingers crossed, I will be able to find a week this month to disappear and get some much deserved time off the grid and far, far away from the daily grind.  Rest, relaxation, and regeneration is my motto this month and a requirement in order to hit the ground running this fall.
Although the end of summer has always been somewhat sad for me, saying goodbye to a more flexible schedule with longer days to get more things done, there is also an almost immeasurable level of excitement with the start of something new. Although, who am I kidding, we live in the Sunshine State so the end of summer isn't quite what it was growing up in the Midwest and, it has been quite a few years since summertime meant I got three months off.  Nonetheless, it remains significant to the marking of an end of what was and a push toward something new and often times, unfamiliar.
I know most of you don't thrive on change, shoot, I live with a few members of that fan club.  I am the last person to understand why I welcome change as much as I do; it has to be my early roots moving around so much as an Air Force brat.  No matter the reason, I consider it a gift and one that I have used to my advantage almost my entire life.  I never meet a stranger and I have built a pretty incredible career off of my gift of gab.  I almost never worry…why bother?  If it's out of my control, then it is out of my control.  I have complete faith in whatever will be will be and I am completely certain that whatever it is, my path to date has prepared me for whatever challenge comes next.  I welcome the unknown along this journey, I love learning new things, and contrary to popular belief, you can teach an old dog new tricks…with age, comes wisdom and I thank God for that every day!
So as we bid farewell to the summer of 2016, let's put our best foot forward heading into autumn.  Let's commit to focus our precious time on things within our control, or at least attempt to.  Let's celebrate all of the new opportunities presented.  Let's expand our circle, be open to new adventures, and clear a path in a new direction.  Let's be better today and tomorrow than we were yesterday; better friends, better spouses, better parents, better employees, and better employers and better citizens.  Let's live in this moment, because before you know it, it will be time for pumpkins, giving thanks and ho, ho, ho!




by







by