Experience Matters In Real Estate
Real Estate In The Parks – By Kelly Price
For most Americans, buying a home is one of the biggest financial decisions they will ever make. In today's ever-changing, fast-moving market, technology-based firms are looking to alter the way we buy and sell real estate.  The way they are doing this is through encouraging digital and paperless transactions. While third-party, technology-backed firms are also hoping to pave the way towards more "buy here, sign here" digital sales, I believe there is significant value to buyers and sellers who choose to hire a broker with a career based on firsthand knowledge and experience.
You see, in real estate, experience really does matter. In May 2019, Zillow announced that it would expand its new Zillow Offers services to include the Central Florida market, and while the concept of an iBuyer (an algorithm-powered home-flipping platform) isn't exactly new, the introduction to our local market has buyers and sellers alike asking, "Is this the right choice for me?"
If you are unfamiliar with the iBuyer concept, here is the gist: companies such as Zillow, Offerpad, and Opendoor use an algorithm to determine market value for a home and then offer a quick sale in exchange for a 7-10% transaction fee and a mildly reduced purchase price.  This way, they can turn around and sell the home in three months to another buyer. Essentially, iBuyers are looking to flip your house.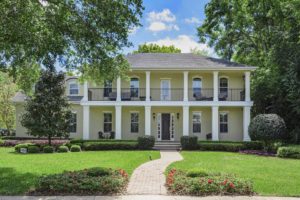 A recent MarketWatch investigation revealed in June 2019 that on average, sellers who chose an iBuyer for the sale of their home netted 11% less than those sellers who chose a broker to represent them. In addition to losing money at the closing table, the lack of a FARBAR listing agreement also means that the ever-important fiduciary relationship, which provides honesty, skill, care, due diligence, and limited confidentiality between a broker and seller, was non-existent. To me, the ability to give the above representation to a client is the defining reason why the role of a broker is so crucial.  Is an investor flipping houses with a computerized algorithm going to protect your interest? Probably not.
There are certain conveniences that come with the latest technological advances, but as we drift in a digital direction, I firmly believe that we must be cognizant and careful to not become "peopleless." Statistics estimate that only 5% of real estate sales are purchased by an iBuyer, which means most of the market is still people-oriented.
Whether you are a buyer or seller, the presence of a licensed broker or sales associate benefits you from the first moment a home is shown. The initial impression of a clean, staged home with lights on, candles burning, and even the occasional fresh-baked cookie smell, represents a seller well and makes the overall showing experience more inviting to a buyer. As both sides of the transaction enter into a contract to purchase agreement, the intricacies and legalities- not to mention the emotions of the entire sales process- can be tough to navigate. Having an industry professional there to answer any questions and represent you from start to finish will save you many sleepless nights.
To recap, experience matters in real estate. As Zillow Offers makes their debut in Central Florida, I think it's important for buyers and sellers to be well-informed and consider all options. In a market where 95% of sales are the result of homes being placed on the open market, hiring an experienced, educated, well-trained broker to guide you through the sales process can make all the difference.  
Kelly Price is not only the driving force and name on the door of one of Central Florida's most dynamic and recognized real estate companies, she also is one of the area's premier real estate sales professionals.  Kelly launched her real estate career in 1989 with an established Winter Park real estate firm and over the next 12 years was one of the firm's top performers. In 2002 she was bitten by the entrepreneurial bug and started Kelly Price & Company.  Starting with just herself and two other associates, Kelly Price & Company has grown to more than 40 sales agents and it has posted more than one billion in property sales.  Kelly was born in Memphis, went to school at Winter Park High and received her MBA at Rollins College.






by





by