Fall Landscaping – Perfecting Your Curb Appeal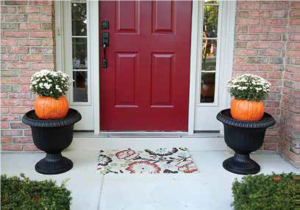 Real Estate In The Parks – By Scott & Sam Hillman
We are often asked by clients, "What can we do to improve the look of our home?"  While the answers can vary depending on the home and the condition, one thing that is almost always suggested is to enhance and clean up the exterior of the home.  Your home's exterior is the first thing that potential buyers see when they drive by and arrive for their showing.  It is almost always the first photo they see online.  Perfecting your curb appeal is only going to boost traffic to the home.  If the outside shows care, is tidy, and manicured with pops of color, then the inside becomes more enticing.   Fall is the perfect time to work on your home's exterior, including the landscaping, as we begin to experience cooler temperatures.
A good first step is to stand at your curb and really look at your home, yard, and landscaping.  Florida summers can be rough not only on your yard but your home as well.  As it becomes more tolerable to be outside in the sun, consider pressure washing your home's exterior, you may be surprised to see how much crisper the home begins to appear.  Additionally, cleaning the windows can not only make them shine from the exterior but can help to brighten up the inside as well.
After a good pressure cleaning, it's a good idea to take a closer look and see if there are areas where the paint has begun to chip or fade.  It may just need a few areas of touch up, or perhaps the shutters need a fresh coat of paint.  One area that tends to get overlooked is the gutters.  Less humidity and a drop in heat makes fall an ideal time to get those gutters cleaned out.
Does your yard have any brown patches?  No problem, fall is the perfect time to get those patched, getting the yard looking lush once more.  While you are in the yard, grab those clippers to tidy up any hedges and shrubs, helping to give them a more manicured appearance.  It is also a great time to trim up your trees and remove any scraggly branches.
After cleaning out the landscaping beds, getting rid of weeds and unwanted leaves,  see if you have holes that could be filled with a new bush or shrub.  Fresh mulch in the landscaping beds can truly make your plants appear neat and well-kept.  Tie all your hard work together by adding some rich and wonderful fall colored plants.  A nice finishing touch is to add or update your decorative lights.   They help to illuminate walkways and lighten up your beautiful landscaping in the evening hours.
A neat, fresh and orderly front exterior is a fantastic step in improving your home.  Simply tackling one or two problem areas outside can do wonders for a home.  You will be surprised how adding a pop of color and sprucing up the exterior can help a home to truly shine.
Scott Hillman is president of Fannie Hillman + Associates, a 35-year-old Winter Park-based real estate company specializing in residential real estate sales. Sam Hillman is a realtor and Market Analyst at Fannie Hillman + Associates. Together, they produce Hillman Homes, a customized quarterly publication showcasing local luxury listings, editorial features, and The Hillman Report, a semiannual look at residential real estate in Orange and Seminole counties. Read the latest issue on the company's website (fanniehillman.com) or by calling (407) 644-1234 for a copy.




by







by