I Fell In Love With An Actress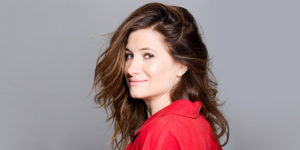 Pop Culture Detours – By George McGowan
It's the season of love and I must confess that I have fallen in love with someone. Sure, I'm married and have been very happily so for the last 36 years. But, I think my wife will understand. This love is only "consummated" through a TV, movie or mobile device screen. But, I feel in this month of Valentine wishes, I should confess to loving Kathryn Hahn. More specifically, I love the acting work of Kathryn Hahn, especially in the Amazon TV series "Transparent" and the recent movie "Bad Moms." Some of you may feel the same way, but get in line, I called her first. No, seriously, I believe that Ms. Hahn is approaching a break-out in her career and I wanted to confess my love before any of you. She is a fantastic actress and I can't imagine her not getting better and better.
First, her role in "Transparent" is as Rabbi Raquel Fein. A little research will reveal that Ms. Hahn grew up in a Catholic household in Cleveland. With this background information, I found it astonishing how incredible she is in this role. The main characters on the show are all Jewish and their observance of their faith (or lack thereof) is woven into the fabric of the show. So, the character of the rabbi is incredibly important for those of us not familiar with the religion to begin to understand the importance of ritual to a Jewish family. It so happens that Rabbi Raquel also falls in love with one of the members of this family and, therefore, becomes a part of the family in her own way. While the plot of the show is certainly an acquired taste, the performance of Ms. Hahn is not. She jumps off the screen in both her times of joy and her times of sorrow. She embodies the rabbi and captivates with her beautiful eyes and expressive face. She adds to every scene she is in and her work is a lovely counterpoint to the narcissism of the other characters in the show. Ms. Hahn does wonderful work as Rabbi Raquel Fein.
Next, Ms. Hahn plays the role of Carla, a single mom without a filter or a care, in "Bad Moms" now available on DVD and on demand. In January, "Bad Moms" rightly won the title of Favorite Comedy Movie on the People's Choice Awards. In this role, Ms. Hahn is again asked to play a supporting character but proceeds to steal the show with her turn as a wild woman without apology.  She is asked to perform the broadest comedic role, sloshing and swilling booze, rudely and crudely interjecting her opinions, and basically being the opposite of "politically correct." The movie itself is a fun romp in the vein of "Bridemaids" and skewers the rituals and rites of perfect moms "properly" raising children while also being asked to take care of all other domestic family tasks. But it becomes special when Hahn and her co-stars drop the pretense and give in to their wilder instincts. Hahn embodies her role literally from head to toe and is a delight.
I could go on and on about my new love, but I will cut it short out of respect for my one true love, my wife. But, if I were you, I would keep an eye on Kathryn Hahn as she is certainly talented enough to become a big star!






by





by