FIT Girls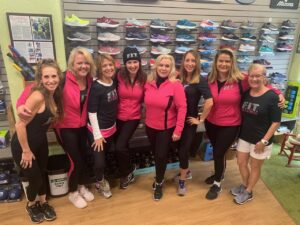 By Samantha Kearns O'Lenick 
Twice in two decades, I convinced some of my girlfriends that we should run a half marathon. No biggie. I said it would be fun. They fell for it the first time in 2009 and they have fallen for it again this year. At least this time, we have a clue what needs to be done and what to expect. It's like what mothers say about childbirth — the pain of it is long forgotten.
Much has happened in the past decade. A handful of us kept running, while others hung up their shoes for good. We've weathered job changes, ended marriages, experienced relocations, and have experienced way too many loved ones lost, including the passing of our beloved trainer, David Cassidy.
No one could say no to honoring him. The day of Disney's annual half marathon is January 11, which would have been Dave's birthday.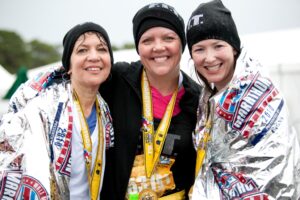 Dave loved us in spite of our strong personalities, our complaints, and our failure to show up for training, or to follow his elaborate workout schedule. He wrangled this collection of yakky, A-type controlling personalities like no one else could, laughing all the way.
It is for David Cassidy that we run this January 11, 2020. When we first reunited for our weekly training runs, it was immediately and painfully obvious that we are still A-types, all-controlling and completely all over the place. Our chatter, our focus on the level of bling necessary for our matching shirts and hats, coupled with the fact that we even have to have matching outfits has remained unchanged.
Dave made us strong; he made us believe that in five weeks we could train for and successfully complete a half marathon on the coldest day of the year. It was Dave who convinced each of us that if we could run eight miles, we could run 13.1. And he was right! We crossed the finish line wet and icy from sleet, sweat, and determination.
Our group – Females In Training or F.I.T. – could never have accomplished any of this without Dave. Now, a decade later, we still look just as we did back then (yes, yes we do). We're a wee bit slower but we will do it again.
Dave won't physically be there to stretch us out, remind us about getting enough sleep, staying hydrated, and eating properly. He won't physically be there to take a few minutes to trot beside each of us for random conversation distracting us from our pain. But he is with us always. Each of us feels him pushing us forward ever so gently and letting us know that we can and indeed, will do this again….even a decade later. #DC10
The FIT team members are:
FIT ladies:  Sara Brady, Kari Conley, Leah Shepherd, Ali Polejes, Pam Saffran, Wendy Sullivan, and Samantha Kearns O'Lenick, Dr. Aileen Field, Trainers: Track Shack owner, Betsy Hughes and Track Shack Vice President, Natalie Casey




by







by