FOR BARB……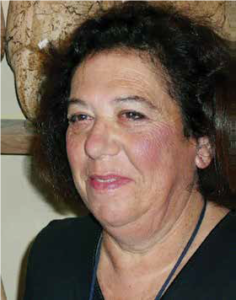 Theater In The Parks – By Paul Gicola
Barbara Solomon passed away peacefully listening to showtunes at home on September 10.  Some of you may only know her as the writer of this column.  But to her friends and the central Florida theatre community, she was a treasure.  Barb was born in New York.  She liked to call herself the other Barbara from Erasmus Hall High School. The other being Barbra Streisand.  Since moving to the Orlando area, Barb was very active in theatre.  She wrote and produced shows, prepped shows for area producers, and even starred in some herself.  As a theatre critic, her opinion was considered important.
I moved to Orlando about seven years ago and attended a show at Theatre Downtown.  After the show, I walked across the street to a vintage store and met Barb for the first time.  Never one to mince words, she told me she was closing, and I would have to come back another day, which I did.  I learned that she had run antique stores over the years in different locations on the same block.  Affectionately called "The Mayor of Orange Avenue," everyone knew Barb. We became fast friends and would spend time attending and discussing shows.  When Barb was diagnosed with cancer and undergoing treatment, she asked me to co-write this column.  Although Barb didn't get out much in the past months, her dying wish was to be able to see "Gypsy" at the Winter Garden Theatre. "Gypsy" was Barb's all-time favorite show.  She saw it every time it played, be it amateur or professional, and would sing along with all the songs.  I am happy to say that Barb did attend the performance and had a nice day out with friends.  A day she referred to as the "happiest in a long time."  She died two weeks later.
Barb left me a note in which she wrote the following about the show:
"They nailed it!  This was one of the best version I have ever seen, and I have seen dozens including the one in which I played Electra, the stripper that lit up.  Rose's (Andrea Canny) voice was more electric than Electra's costumes.  She had the entire audience crying at her rendition of "Rose's Turn." Herbie (Michael Hartson) has the most difficult role in the show, going from sappy innocent to a strong believer. His strong voice enhanced his acting.  Gypsy (Andrea Stack) had the sweetest voice and personality to match.  She sang my favorite song, "Little Lamb," near the end of act one.
This is a true story.  All of us stage mothers see themselves as Mamma Rose.  Too bad I can't sing like Andrea.  Even though "You'll Never Get Away From Me" is not the most famous of the songs, it is a song I sing to myself almost every day.
I have been privileged over the past eight years to write for the most wonderful local newspaper. But, I must leave you now, along with all my theatre friends."
Barb will be missed and hopefully she is in a place where showtunes are played constantly and "Everything Is Coming Up Roses."
A memorial service will be held for Barb at The Winter Park Playhouse.  Call 407-645-0145 for information.






by





by