Fourth Quarter Market Update
Experience Matters In Real Estate-  By Kelly Price
It's so hard to believe that 2019 is so quickly coming to its end. As we wrap up and reflect on the fourth quarter, we have much to be grateful for- both in the real estate arena and our local community.
The latest Market Pulse has shown that inventory over the past eleven months has taken a 4% percent swing. In September of 2017, there were approximately 8,600 listings, higher in comparison to last year in September, which showed about 8,092.  As we near the end of 2019, the Greater Orlando area has dropped to only about 7,700 active pieces of inventory.  Although the amount of inventory has dropped, there are still many wonderful houses available for sale, just waiting for new buyers to come and make them their own!
In contrast to the lower inventory, the interest rates in the market have become incredibly attractive.  We are seeing interest rates stay under four percent, which makes home buying for many much easier. These low interest rates have given numerous buyers an excellent opportunity to purchase and own their first residence, or to move towards their goal of living in their dream home.  Home ownership is still an integral part of many people's lives and we are thrilled to continue playing a role in the process.  Allowing our clients the opportunities to both buy and sell makes our agents feel as though they are able to continue making a difference in people's lives, and nothing makes us happier than happy clients!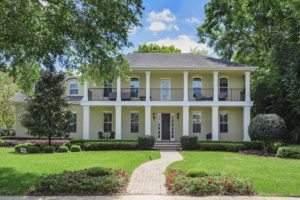 This time of year also reminds me of how grateful I am for all the fabulous people that live in our town.  Thank you all for the kindness and support you continuously show our town and its residents.  It is such a versatile town and a wonderful place to call home.
Take the opportunity to get out and celebrate the holidays with your friends and neighbors by enjoying all of the happenings our city has to offer. The cooler weather is on its way and there are many upcoming events that are worth participating in!  Take part in as few or as many as you can make the time for- you won't regret it!
I am so grateful to call Central Florida home.  I genuinely feel that there is no greater place to live, play, and sell homes! Thank you for your contribution towards our community, whatever it may be.  I am always proud to be part of our extraordinary town and am anxious to see what the year 2020 will bring!
Kelly Price is not only the driving force and name on the door of one of Central Florida's most dynamic and recognized real estate companies, she also is one of the area's premier real estate sales professionals.  Kelly launched her real estate career in 1989 with an established Winter Park real estate firm and over the next 12 years was one of the firm's top performers. In 2002 she was bitten by the entrepreneurial bug and started Kelly Price & Company.  Starting with just herself and two other associates, Kelly Price & Company has grown to more than 40 sales agents and it has posted more than one billion in property sales.  Kelly was born in Memphis, went to school at Winter Park High and received her MBA at Rollins College.




by







by