"Getting Spriggy With It" On Hole #5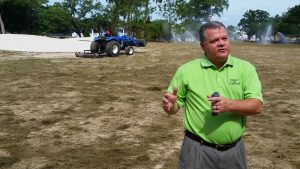 Last month, city leaders and volunteers assisted the Parks & Recreation Department staff in "sprigging" Hole #5 of the Winter Park Golf Course, currently undergoing renovation.
The "Spriggy" Facts:
Sprigs are hay-like grass roots and stems that are manually spread and tossed over the ground, disc-plowed with machinery, then watered and fertilized aggressively to ensure the lush growth of the tees and fairways of the golf course.
800 bushels of Bermuda grass (type 419) sprigs are being used per acre. The Winter Park Golf Course is approximately 40 acres.
This sprigging process began April 28, 2016, and will continued through Saturday, May 28.  In early June, the sprigging of the greens will begin and should be completed within a few days.
After the sprigging process is complete, the growth process will take approximately 10-12 weeks of continual watering and fertilizing. As it starts to grow upward and the shoots begin to develop, the golf course maintenance staff will mow the grass and the sprigs will spread laterally to cover the grounds with lush grass.
The Winter Park Golf Course Grand Opening is expected to be September 2016.




by







by