Going Solar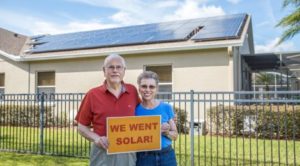 Publisher's Message – February 2018
If you're like me, upon looking at my power bill each month, I often think, I really should look into what it would take to convert our home to solar energy.
Well, the timing to learn more is now, as Orange County is building on the momentum of the State's largest and most successful solar co-op by again partnering with Solar United Neighbors of Florida to bring two additional solar co-ops to residents beginning in early 2018.
Solar co-ops provide bulk discounts of up to 20 percent for a group of homeowners interested in purchasing solar panels. As part of a solar co-op, each participant signs an individual contract with the group-chosen installer, and all participants benefit from the discount. All homeowners who reside in Orange County, including in city jurisdictions, are eligible to participate in their respective co-op.
Orange County launched its first solar co-op in the summer of 2016 with 515 participants. Of those households, 79 installed solar through the co-op, accounting for 702.83 kW of new solar capacity in the County. In addition, $1.3 million was invested in solar with this co-op with a total energy savings over a lifetime of solar array of $3.5 million. Orange County Mayor Teresa Jacobs and her family were among the 79 households who joined this first solar co-op.
Solar power also supports Jacobs' goals in her Sustainability Initiative, "Our Home for Life," which seeks to reduce barriers to alternative energy and increase renewable energy production by 10 percent in 2020 and 25 percent by 2040.
Joining a co-op does not obligate members to purchase panels. The exact price of a Photovoltaic (PV) system is dependent on homeowners' preference in system size and their home's energy consumption. Homeowners have the option to install the size PV system that fits their budget.
As part of this initiative, Orange County streamlines the permitting process for solar installations. New solar permits can be processed in a single day.
To learn more, please visit www.solarunitedneighbors.org.  The next local session is Wednesday, February 28, 2018, 6 p.m. to 7:30 p.m. at the Rollins College Bush Auditorium located at 1000 Holt Ave.
As always, thank for reading The Park Press, and we look forward to the great things to come!
Rick 




by







by