A Historic Commitment To Address Homelessness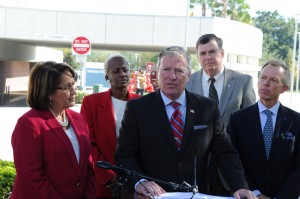 Florida Hospital recently announced the largest, one-time private donation to end chronic homelessness in Central Florida history — a commitment that will change the way this unique population is cared for and supported in years to come.
Building on commitments from the City of Orlando and Orange County, Lars Houmann, CEO and president of Florida Hospital, announced Florida Hospital is committing $6 million over three years to address homelessness in our region.
"As individuals, we sometimes look away when we see a homeless person because the sight is painful," said Houmann. "We can no longer do that. Businesses, hospitals and the community must unite around this issue. We all have a moral obligation to take a stand to end chronic homelessness."
The announcement took place in front of Florida Hospital Orlando's emergency department, flanked by  Mayor Buddy Dyer of Orlando,  Mayor Teresa Jacobs of Orange County,  and Andrae Bailey, CEO of the Central Florida Commission on Homelessness.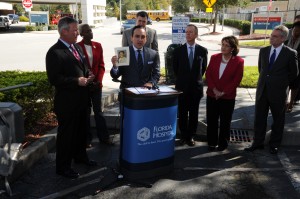 During his annual State of the City Address, Mayor Dyer announced a bold goal of housing 300 of Downtown Orlando's chronically homeless individuals in three years. The City of Orlando has committed $4 million over three years to support the "Housing First" model, a proven approach that provides housing with wrap-around supportive services to the chronic homeless.
"Collaboration is the hallmark of our community. With the leadership of businesses like Florida Hospital, I am confident our community can once again partner together to provide permanent housing options for chronically homeless individuals," said Mayor Dyer.
As the largest government funder of permanent supportive housing, homeless prevention, emergency family care, mental health and related services in the region, Orange County Government seeks to serve our veterans, our chronically homeless adults, and vulnerable families and children in a variety of ways.
"Building upon the great momentum and recent, renewed awareness that has been created regarding the issue of homelessness, I believe that we can make history by transforming the lives of our homeless children and families, the chronically homeless and our proud veterans," said Orange County Mayor Teresa Jacobs.
Orange County Government will be budgeting more than $13.5 million over the next three years for homeless housing, prevention and related family programs, and anticipates increasing that number annually.




by







by