Historical Proclamation For Lucky's Lake Swim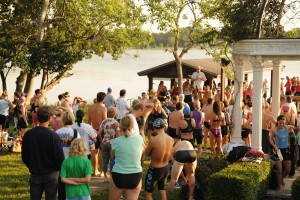 In this year of 2015, the Historical Society of Central Florida, Inc. will make history by awarding the organization's first historic event proclamation to Lucky's Lake Swim on May 9th at 7:45 a.m. and Lake Crane.
Through the years, Lucky's Lake Swim has drawn international tourists and swimmers have accredited the event to their setting and breaking of world swim records. The popularity of the swim has crafted into a philanthropic effort that raises funds for several charitable regional causes, as well as raises awareness about environmental issues.
"There is no other swim like it in the world, it is cool, unique, and fun. It should be on every swimmers bucket list." – Rowdy Gaines, Central Florida native, three-time Olympic gold medalist in swimming, and Historical Society of Central Florida supporter.
"It's more than a swim it's a community where, religion, ethnicity, race, culture, age, or, socioeconomic status doesn't matter, entrance only requires the love of open water swimming." – Dr. John "Lucky" Meisenheimer
This is event is open to the public, and Lake Crane is located at 6645 Lake Cane Drive.  For more information please visit www.thehistorycenter.org or call 407-836-8500.
For more information on Lucky's Lake Swim please visit www.luckyslakeswim.com.
*Photos courtesy of the Historical Society of Central Florida




by







by