And I'm feeling good…
By Ayesha G. Bullock, M.A.
Though one day I'm sure I'll further expound upon my immersive relationship with music, for now I'll just say that I find myself with a languorously-playing version of Nina Simone's "Feeling Good" on repeat inside my head. It's a sticky, late summer evening and I've got a softly snoring pup, a flickering candle, and a lovely cabernet to accompany the smooth stylings of Ms. Simone.
It's the end of the summer, which traditionally means the back-to-school scramble, the newly resolved student, the fall fantasy of football and the rapidly approaching harbinger of holidays. This is the time of year when, no matter your age, the world speeds up a bit and you may dive into the season only to emerge in awe of just how much of the year has unwittingly passed you by… However, fear not – it's time to take a moment to find yourself feelin' good.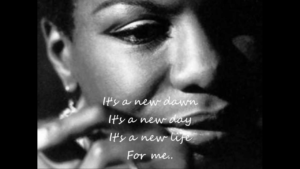 That is to say, take a moment to identify what is completely 'on point' about your life in this very hot second? What are the things for which you just can't count your lucky stars enough? Who are the people who exponentially improve the quality of your life just by the very nature of their existence? Where do you find yourself (whether once a day/week/month/year) being in utter and joyful balance? We all have at least a few blessings for which to take stock, no matter the circumstance.
Take a moment to reflect…
(Yes, I mean this very moment… you clearly have a few to spare as you're reading this tripe 🙂
Go ahead, I'll wait.
There – there it is. There is that moment/person/talent/wonder that keeps you in the marvel of your very being. Grab it, take hold of it, examine and inspect it and how it informs and enlightens your life. How has it been a part of your story, you delightfully endowed creature, you?
Viktor Frankl once said, "Everything can be taken from a man but one thing: the last of human freedoms  – to choose one's attitude in any given set of circumstances, to choose one's own way."
I reflect on this quote on a daily basis as a reminder to be in my own way. To choose my own attitude and to fervently cling to the truth of any given set of circumstances. That truth remains – that I am extraordinarily blessed and I have every opportunity to break a new dawn, a new day, a new life and to indulge in that feelin' good.
*Not to be a guilt monger here, but I should also mention that Frankl coined that (among many extraordinary quotes) while a prisoner of the concentration camps… So, you know, perspective.
With all those words of wisdom from our soul sisters and existential fathers, I encourage you to take this (and maybe a few more moments) to cherish, savor, treasure, relish in this day. With the birds flyin' high or the breeze driftin' on by, allow yourself a moment to just be in flow enough to enjoy the current.
Be Well; Live Meaningfully.
Til the next time,
Ayesha
Ayesha G. Bullock, M.A. practices at 2150 Park Avenue North as a Licensed Mental Health Counselor and can be reached at ayesha@livemeaningfully.net or 407.796.2959






by





by