Be Inspired At The City's Inaugural "Weekend Of The Arts"
Mayor Leary's Message – February 2018
 The inaugural "Weekend of the Arts" celebration in Winter Park will shine a spotlight on extraordinary live music and theater, free art exhibitions, children's arts and crafts, and other cultural treasures Friday, February 16 through Monday, February 19, 2018. The inspiring long weekend of events, presented by the City of Winter Park and 18 nonprofit arts and cultural groups, will offer locals and visitors alike the chance to sample Winter Park's diverse array of cultural experiences.
It doesn't matter if you've lived here for 50 years or if this is your first 50 minutes in Winter Park, this is the chance to discover the amazing art & cultural amenities the city has to offer. If you enjoy the performing arts, live musical performances, one-of-a-kind exhibits, or large family celebrations, the Weekend of the Arts will offer a cultural experience for everyone.
In June 2015, at the conclusion of the year-long Vision Winter Park process, the city adopted a new vision statement: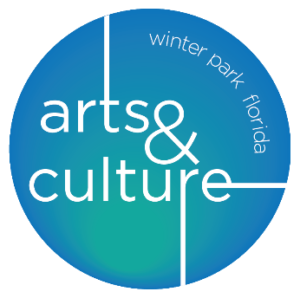 "Winter Park is the city of arts and culture, cherishing its traditional scale and charm while building a healthy and sustainable future for all generations."
With "arts and culture" in the forefront, the city officially launched an Arts & Culture initiative of the Public Art Advisory Board in September 2016 with the mission to enhance and improve awareness and visibility of these 18 unique entities as a whole.  The "Weekend of the Arts" is a celebration of these organizations' commitment and dedication to importance of the arts in our community.
Art is not only food for the soul, but according to Arts & Economic Prosperity 5, the Americans for the Arts study released in June 2017, there is  "evidence that the nonprofit arts and culture sector is a significant industry in the City of Winter Park—one that generates $46 million in total economic activity. This spending—$16.6 million by nonprofit arts and cultural organizations and an additional $29.4 million in event-related spending by their audiences—supports 1,649 full-time equivalent jobs, generates $32.7 million in household income to local residents, and delivers $4 million in local and state government revenue. This economic impact study sends a strong signal that when we support the arts, we not only enhance our quality of life, but we also invest in the City of Winter Park's economic well-being."
To read more about the economic impact of the arts, discover all the exciting experiences the inaugural Weekend of the Arts has to offer or find a comprehensive directory of all arts & cultural entities and events, please visit cityofwinterpark.org/arts-culture. #wpinspires
Sincerely,
Steve Leary, Mayor




by







by