International Walk To School Day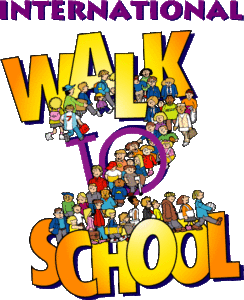 Healthy Central Florida, Florida Hospital and the Winter Park Health Foundation are calling on students and parents to join International Walk to School Day on Wednesday.
Last year, nearly 2,000 students walked or rode their bikes to school on International Walk to School Day in Winter Park, Maitland and Eatonville — a 66 percent increase over an average weekday. The number of cars transporting students to these area schools also decreased by 28 percent.
Organizers hope there will be even more participating students this year. They will again be joined by elected officials, parents and advocates.
"By now, everyone knows that we should get more exercise and that children need to move more to be healthy mentally and physically," said Jill Hamilton Buss, executive director of Healthy Central Florida, which organizes the annual activities. "There are many other benefits for children, including improved learning and retention, better classroom behavior, reduced stress and even increased happiness."
Almost one-third of children report they've experienced a physical health symptom often associated with stress, such as headaches, stomach aches or trouble falling or staying asleep, according to the American Psychological Association.
"Regular physical activity, exposure to nature, fresh air and free play are some of the best ways to help children reduce and manage stress. Walking and biking to school offers children all of these benefits," said Hamilton Buss, who is also a licensed mental health counselor.
Getting kids walking and bicycling also helps them maintain a healthy weight and reduces risk for obesity and diabetes. Roughly 27 percent of Orange County children ages of 5-17 are overweight or obese.
"Our success in growing this walking and biking movement is due to a total community effort," said Hamilton Buss. "Our principals, teachers, city leaders, elected officials, parents and advocates continue to work together to promote safety, health and student success."






by





by