Junie B. Jones At The REP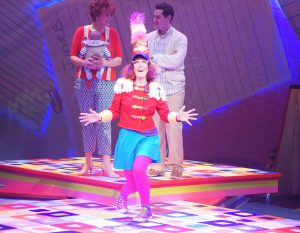 Orlando Repertory Theatre (The REP) presents Junie B. Jones The Musical (April 4 – May 15, 2016). This production is presented by OUC – The Reliable One and directing sponsor Appleton Creative.
She's back with an all-new show! It's Junie B.'s first day of first grade and a lot of things have changed for her: Junie B.'s friend Lucille does not want to be her best pal anymore, and on the bus, Junie B. makes friends with Herb, the new kid at school. Also, Junie B. has trouble reading the blackboard and her teacher, Mr. Scary, thinks she may need glasses. Throw in a friendly lunch lady, a kickball tournament, and a "Top-Secret Personal Beeswax Journal" and first grade has never been more exciting!
"While thinking about bringing Junie B. back to life at The REP, we wanted to find a new way to introduce our audiences to the world of Junie B. Jones!" says director Steve MacKinnon.  "We approached the production as a look into Junie B.'s first-grade journal, and wacky and distracted world! Using a highly conceptualized design of projections, scenic design, lighting, props, and costumes, we have strived to capture the essence of this precocious little girl. We have had so much fun discovering the characters in Junie B.'s world and making them come to life with our dynamic cast! Creating a world of children played by adults is always a delicate task between finding the joy and heart of a child, while building authentic and honest characters. You may even see a little bit of yourself reflected in some of these joyous adventures!"
Junie B. Jones The Musical is now playing Saturdays and Sundays from April 4 through May 15, 2016 at 2 p.m. and 5:30 p.m. Tickets are $20 for adults, $18 for students, seniors (55+), and members of the military with valid ID, and $14 for the youth (ages 3 to 17).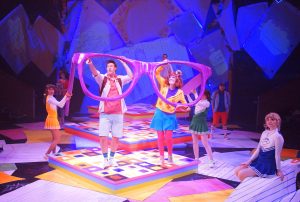 The REP also offers special performances of Junie B. Jones The Musical. Papa John's Pizza Family Night is April 10 at 5:30 p.m. Pizza is $2 per slice and is available for purchase before and after the performance. Guests have the option of ordering a full pie in the lobby before the performance and it will be available for pickup afterward. 20% of the proceeds for each purchase are donated back to The REP. There is also an ASL performance, translated by an American Sign Language Interpreter on April 18 at 10:30 a.m. Backstage Tours are offered on April 16 and May 14 following the 5:30 performance. Tickets are $5 per person and space is limited, so make sure you reserve your spot early in advance at the box office!
The cast includes Beth Jones as Junie B. Jones, with Cat Claus, Gabe Friedman, Jillian Gizzi, Hannah Beth Neal, Janeshka Nieves, Erick Perafan, Kurt Roth, and Michael Thibodeau. Directed by Steve MacKinnon, the creative team includes music direction by Steve MacKinnon, choreography by Spencer Morrow, scenic design by Cindy White, lighting design by Ryan Mueller, sound design and projection design by Anthony Narciso, costume design by Marcy Singhaus, and props by Tara Kromer. The production is stage managed by Tiffany Lyn Meadows and assistant Jessica Lyn Karnes.
All performances of Junie B. Jones The Musical take place at Orlando Repertory Theatre, located at 1001 East Princeton Street, Orlando, FL 32803. Tickets may be purchased online, over the phone, or at the Box Office. Please visit www.orlandorep.com or call 407-896-7365 for more information.




by







by