Landscape Lingo 2.0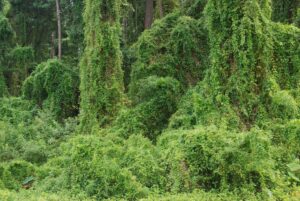 In The Garden – By Stephen and Kristin Pategas
 We shared with a client the difference between invasive and non-invasive plants and realized there are many other landscape-related word definitions to expand upon.
Exotic plant – A plant growing somewhere that is not considered native.
Native plant – A plant growing somewhere about the time Columbus stumbled upon the New World. This leads to some confusion since plants in spite of human intervention have travelled by means of birds, animals, wind, and water.
Aggressive plant – A high maintenance plant whether native or exotic that spreads and/or sprouts readily.
Invasive plant – An exotic plant that is extremely aggressive and appears in natural areas blocking out native plants that support wildlife. Remove these diligently and encourage your neighbors to do likewise.
Multi-trunk – A tree with multiple trunks. Some are grown with single or multiple trunks. For some trees, multiple plants are grouped together in one container.
Branch collar – The collar at a tree branch can usually be seen as a ridge or swelling on the branch near the trunk. Make branch removal cuts just beyond the collar and not towards the trunk. If in doubt, leave a slight branch stub which will rot away naturally.
Topiary – The art of shaping plants (with or without frames) into geometric or often fanciful forms. Originally it was done with slow growing woody stemmed shrubs but now includes frames stuffed with sphagnum moss and planted with creeping plants.
Bonsai – An everyday woody plant dwarfed when grown in a small volume of soil. They are carefully trained into a variety of styles including formal and informal upright, windswept, slanting, and more. The word bonsai comes from the Chinese words pun sai, meaning literally "tree in a pot."
Deciduous – A plant that for a portion of the year loses all its leaves before resprouting them. Evergreen trees do not lose their leaves all at once and semi-evergreen trees lose them for only a short period of time.
Drought tolerant – This a tricky term. The U.S. Drought Monitor (USDM) established a numeric drought classification scale like those for tornadoes and hurricanes. The drought intensity scale is composed of five different levels: D0, D1, D2, D3, and D4. Level D0, corresponds to an area experiencing short-term dryness that is typical with the onset of drought. Level D4, corresponds to an area experiencing exceptional and widespread crop and pasture losses, fire risk, and water shortages that result in water emergencies. We prefer to note plants more realistically as "low, moderate, or high-water use" since a D3 or D4 drought without intervention using supplemental watering would kill most landscape plants.
Now armed with more knowledge, your garden awaits you.
Hortus Oasis (FL0001090) in Winter Park is a boutique garden design company specializing in residential, commercial, and specialty gardens. Stephen is a registered landscape architect and Kristin is a certified landscape designer. Contact them at 407-622-4886/ garden@hortusoasis.com and visit www.houzz.com/pro/hortusoasis/__public.
*Credit: All photography by Stephen G. Pategas/Hortus Oasis unless otherwise noted




by







by