Lip Sync For Lungs Competition Raised Over $38,000 To Fund Lung Health Programs And Research
Last month, over 200 American Lung Association supporters filled the SAK Comedy Lounge in support of friends and loved ones who suffer from lung diseases like asthma and lung cancer. The second annual Lip Sync for Lungs Live Battle presented by Advent Health raised over $38,000 to fund local lung health programs and research.
This year's contestants included Steve Gunter, owner of The Tap Room at Dubsdread and Dubsdread Catering; Tony Sos, trial lawyer and partner at Dellecker, Wilson, King, McKenna, Ruffier, & Sos; Maxine and Kirt Earhart, owners of Maxine's on Shine restaurant;  Nate Carn and Armando Casteneda, firefighters at DeLand Fire Department and Flagler County Fire Department;  and the Young Lawyers– Andrew Irvin, Andrew Roy, Connor Kelly, Kimberlee Martin, Michael Barber, and Nick Shannin.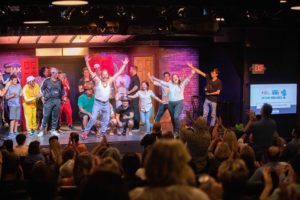 Steven Gunter won the overall lip sync competition and performed a Queen medley from their Live Aid performance. Steve raised a total of $6,805. Firefighters Nate Carn and Armando Casteneda won the celebrity judges segment performing several crowd-pleasing songs that showcased their dynamic dance moves. The audience choice award went to Tony Sos & Team 3280 FORCE TO BE RECKONED WITH. Their performance involved an anti-smoking message and ended with the Beastie Boys "Fight For Your Right to Party."
"Lip Sync for Lungs did not disappoint, said Janelle Hom, executive director of the American Lung Association in Florida. "All of our contestants brought their A-game both in their performances and raising critical research dollars to find a cure for lung disease."
Orlando's second annual Lip Sync for Lungs Live Battle was sponsored by Eddie Fisher Wealth Strategies of Raymond James and Dellecker, Wilson, King, McKenna, Ruffier & Sos.




by







by