Listen To A Story Of An Angel Here On Earth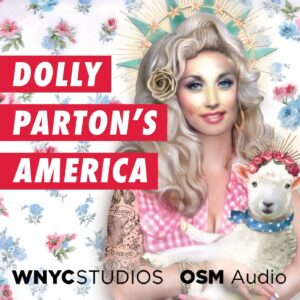 Pop Culture Detours – By George McGowan
Dolly Parton. When you hear her name, what comes to mind? A grand beehive hairdo defying gravity, a voice ten times bigger than her tiny frame, her wonderful lyrics, or her sassy performances in movies like "9 to 5?" If you listen to the new podcast "Dolly Parton's America" hosted by Jad Abumrad (creator of the fantastic podcast "Radiolab"), you might just think that Dolly is all of the great things about America personified.
The nine-part series, of which I have only listened to two as of this writing, is simply outstanding. The accompanying website for the podcast summarizes the audio-series as follows: "In this intensely divided moment, one of the few things everyone still seems to agree on is Dolly Parton—but why? That simple question leads to a deeply personal, historical, and musical rethinking of one of America's great icons." If the first two episodes are any indication of the quality of both the podcast itself and Dolly Parton herself, fans and non-fans alike will marvel at this great person's inspiring life and legacy. I can't wait to listen to the entire series and I hope you take the time to listen, as well. We can all learn something from the way this wonderful lady lives her life.
Not to spoil it for you, but I must tell you one thing I learned about Dolly from the second episode, which details the period in her career where she was a "pretty little thing" singing alongside Nashville legend Porter Waggoner. Waggoner heard Dolly's first hit song "Dumb Blonde" and immediately asked her to join his already successful television show, where her duets with Waggoner became immediate hits. After several years, Dolly eclipsed Waggoner as the biggest star on the show and left to start her own career. Waggoner sued Dolly for breaking their contract and instead of fighting the suit in court, Dolly paid a large settlement to Waggoner to recognize him for taking a chance on her. Beyond all of that, she wrote "I Will Always Love You" in 1974 as a farewell to Waggoner and agreed to let him produce her recording of the song. It went on to become the only song to reach #1 on three separate occasions:  twice by Dolly herself in 1974 and 1985 (where it was featured on the soundtrack to the film "Best Little Whorehouse in Texas") and, most famously, by Whitney Houston in 1992, when it stayed at number one for fourteen weeks and shot the movie soundtrack for "The Bodyguard" to record breaking sales of over 45 million copies!
Whenever I see or hear Dolly Parton, I can't contain my smile. What person famous or not-so-famous causes you to smile? These are the treasures in our lives, and some would call them angels here on earth. I think you will smile and wonder at the stories told about Dolly Parton's life on the new podcast "Dolly Parton's America" and I recommend it to you with my highest endorsement.






by





by