Local Children Find "Forever Families"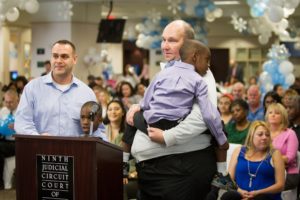 In courthouses across Central Florida on Nov. 18, 44 children were officially united with their new parents during adoption ceremonies in Orange, Osceola and Seminole counties. Ranging in age from toddlers to teens, the children were among nearly 4,000 kids who participated in National Adoption Day celebrations taking place across the country in November. Twenty-nine children were adopted in Orange County.
"It was a special day for dozens of Central Florida children and families who officially became 'forever families,'" said Glen Casel, CEO and president of Community Based Care of Central Florida (CBCCF), the lead agency overseeing foster care and adoption services locally. "Since our inception in 2004, we've helped more than 2,400 children find their forever families. Bringing these families together and witnessing these adoptions is one of the most rewarding parts of my job."
CBCCF is hoping to raise awareness of the number of children who still need permanent, loving homes. In the tri-county area, approximately 114 children in foster care are available for adoption – among thousands nationally.
"These are good kids longing for a family to bring them stability, safety and love," said Casel.
Several community members attended the event to show their support, including the judges who oversaw the ceremonies in each county.
"When I think of National Adoption Day, it reminds me that love has no boundaries," said Judge Alicia L. Latimore. "Despite the age, race, background or experience of our children, their need for love is the same and they can always find it in a forever family."
To learn more about foster parenting or adoption, prospective families can visit www.ProtectAndInspire.org.






by





by