Local Finishes 12th At World Putting Championships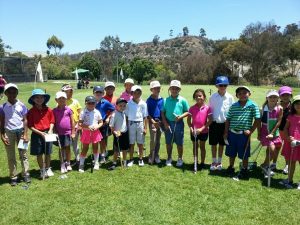 Winter Park resident Michael Ott recently competed in the Future Champions Golf World Putting Championships held July 9th at the Stadium Golf Center in San Diego, CA.  At 5-years-old, Michael was the youngest in the 8-and-under division, and finished a solid 12th out of the 18 competitors from around the globe.  His highlights included hole in ones on #3, #8, and #9, and he finished only seven strokes behind the older winner.
Michael's parents, Rich and Gabriella, noticed early on that he had a natural talent when it came to his eye and hand coordination.  Rich started taking Michael over to the Winter Park Country Club, and he immediately became passionate about playing the game.  Justin Ingram, the general manager and head golf professional at Winter Park Country Club, took notice of his talent and passion; and he reached out to former PGA player and golf instructor Wally Armstrong to have him make a set of clubs for Michael.  It's interesting to note that Wally also made current PGA great Matt Kutcher's first set of clubs.
His most recent success prior to the World Putting Championships, was placing second in the 5-6-year-old division at the North Florida PGA Championships.
"Putting is the area of his game where he really seems to excel," Rich says, "He just steps up and seems to know how hard to hit the ball, the speed, and the angle.  He just gets it. Unlike most adults, he doesn't think about it that much.  He just walks up and knocks it in."
Michael and his older sister Julia attends St. Margaret Mary Catholic School.  Julia gave golf a try, but didn't really take to it.  She's focusing her efforts to learn the athletic performing art of aerial silk at the Legacy Gymnastic Center in Maitland.






by





by