Love, Love, Love, Love… Crazy Love
Live Meaningfully – Ayesha G. Shenk, M.A.
It's now February and we are firmly ensconced in 2018 and all the fruit it promises to bear. 2017 was a pretty brutal year for a lot of people, in a lot of ways. I've actually never experienced so many clients and friends enter a new year so eagerly with such hope (desperation?) to leave behind all of the pain of the previous year. I choose to believe that the collective conscious is aligned and in tune with hope. And it is leaning in the general direction of actualization in the new year… and that has to be a good thing.
I believe we are put on this planet for good and purpose and to find meaning; I believe we are put on this planet with the instantaneous mandate for growth and self-actualization. And, I believe when we stop stretching and growing in an authentic, congruent, and conscious way, that is when we begin to feel pain and experience dysfunction. The good news about this new year is, if the collective momentum feels as though it is primed forward, then perhaps we are all ready to manifest good things this year!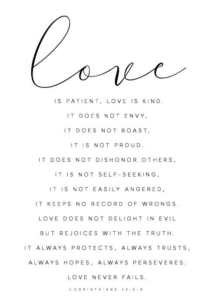 As one of my mom's favorite old songs used to say – 'what the world needs now is love sweet love.' February (and a new year) seem like a good time for that. I am talking about the overwhelming abundance of all that is good and true and kind and connected in the world. I am talking about the energy that we create and pass through ourselves and to one another – from laughing with our kids at the breakfast table to smiling at the stranger on the sidewalk.
I'm talking about the love that emanates from all of us when we're in a good and whole place and has the ability to become contagious and effervescent to both you and all of those around you.
This sort of general love is just about the most powerful elixir and antidote we have to all that may have hurt or ailed us in 2017 or before. It is the salve to our pain and the melody to our dissonance.
As Mother Theresa once said, "we cannot all do great things, but we can do small things with great love." I toyed with many  other words for 2018 – growth, peace, soul, presence… but love is the one thing that encompasses all of it. It robs us of our ego and it softens even our hardest resolve in the midst of an argument. It magnifies the good and it forces us to stretch in grace. It single-handedly builds, grows, changes, repairs, soothes, and restores all things. So, yes – it is love. The overarching and oxygenating love that is energy and wholeness and true wishes for all that is good for each and every brother and sister in humanity.
As Corinthians said, perhaps best: …love bears all things, believes all things, hopes all things, endures all things… love never fails.
Wishing you a February and an entire 2018 full of love.
Til the next time,
Be Well; Love Meaningfully.
Ayesha
Ayesha G. Shenk, M.A. practices at 2150 Park Avenue North as a Licensed Mental Health Counselor and can be reached at www.livemeaningfully.net or 407-796-2959.






by





by