March Is National Nutrition Month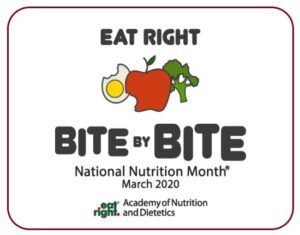 Make a commitment to eating healthier during March, National Nutrition Month. The Women, Infants, and Children (WIC) program at the Florida Department of Health in Orange County is encouraging everyone to Eat Right, Bite by Bite.
National Nutrition Month is a nutrition education and information campaign created by the Academy of Nutrition and Dietetics. The campaign focuses attention on the importance of making informed food choices and developing sound eating and physical activity habits.
This year's theme, Eat Right, Bite by Bite, promotes eating a variety of nutritious foods every day, planning and creating healthful meals each week, and the value of consulting a registered dietitian nutritionist.
The Special Supplemental Nutrition Program for Women, Infants, and Children (WIC) provides federal grants to states for nutrition/breastfeeding education, supplemental foods, and health care referrals for low-income pregnant, breastfeeding, and non-breastfeeding postpartum women, and to infants and children up to age five who are found to be at nutritional risk.
For over 40 years, the WIC Program has been providing nutrition education and counseling. Registered dietitians and nutritionists help families develop lifelong healthy eating habits through one-on-one counseling and group classes, where they learn:
What to eat during pregnancy and breastfeeding
How to feed infants and growing kids healthy foods
How to successfully breastfeed
Shopping for healthy foods on a budget
How to cook healthy, delicious meals
Florida's WIC Program operates 220 sites throughout the state where families improve their diet and food choices with the assistance of licensed nutritionists and nutrition educators. For more information, visit the Academy of Nutrition and Dietetics at www.eatright.org.
The department, nationally accredited by the Public Health Accreditation Board, works to protect, promote, and improve the health of all people in Florida through integrated state, county, and community efforts.
For more information about the Florida Department of Health please visit www.FloridaHealth.gov.




by







by