Mayor Dyer's Annual State Of The City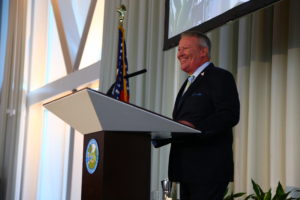 Last month, Mayor Buddy Dyer of Orlando took a unique spin on his annual State of the City speech, hosting it on his milestone 60th birthday and choosing to celebrate with an ode to the city with 60 reasons why it's loved by so many.
Going with the ballad to "The City Beautiful" theme, the annual event kicked off with an original poem, written and delivered by Orlando's new Poet Laureate, Susan Lilley, and was hosted in the City's cultural crown jewel, the Dr. Phillips Center for the Performing Arts.
"If you'll indulge me with a birthday wish, it's that we spend our time together today celebrating our city," said Dyer as he launched into his love list, including highlighting several new initiatives the city is leading in partnership with the community.
From neighborhood infrastructure improvement projects totaling more than $80 million, to dedicated funding for 15 new school resource officers in public schools, to the unique foodie scenes and fusions of culture in the Main Street districts, to a community that embraces equality and diversity with plans to install a first in Florida, multi-stall, all-user restroom in a government building, Dyer had plenty of notables to fill his letter of love to Orlando.
In addition to recent accomplishments, Dyer acknowledged there was more work to do while reaffirming his and the city's commitment to working together with the community to keep Orlando on a successful path forward.
"Loving our city isn't just about the fun stuff.  It's about working together to solve problems," said Dyer, adding, "That's what we do best."  Specifically, Mayor Dyer highlighted the progress the community has made to tackle homelessness and future plans to further those efforts.
In closing, Dyer remarked, "The state of our city is strong.  That strength doesn't come from a new project or building, it doesn't come from a list of reasons why we love our city that strength comes from all of you, our residents."
More highlights of the 60 reasons to love Orlando, celebrated by Mayor Dyer in his speech, included:
Investing in Neighborhoods 
Infrastructure Improvement Projects:
To provide residents with more amenities and enhanced infrastructure, the city has committed more than $80 million in funding.  Projects funded through this initiative, include:

The Orlando Bicycle Beltway, which will be a total of 8.25 miles, creating a loop, from Downtown to the Fashion Square/Colonial area and back.
Major improvements at Lake Lorna Doone Park and the creation of two new parks in the growing southeast area of the City, McCoy Park and Heroes Community Park, will add more than 50 acres of ball-fields, playgrounds and fitness trails throughout Orlando.
Neighborhood Center expansions and enhancements at Rosemont and Dover Shores will provide more space for youth and senior programming. 
Commitment to Providing Housing for Everyone 
Increase in Dedicated Funding & Staff:
This year, the city will add two new positions to create more housing options.  The two positions will focus exclusively on developing new policies and partnerships to help spur investment and bring more housing on line.
The city is dedicating more than $1 million in this year's budget to affordable housing initiatives.
Through the city's $15 million investment to acquire and rehabilitate foreclosed properties and with partners from non-profits, businesses and private developers, more than 600 affordable units are planned, under construction or have recently opened in Orlando this year. 
Addressing Homelessness Through Housing First:
Through the city's "Housing First" initiative, 339 chronically homeless individuals have moved into permanent, supportive housing.  Of those individuals, 96 percent remained housed.
Continued Focus on Public Safety 
Increasing Safety & Building Stronger Bonds:
For the upcoming school year, the city has funded 15 additional school resource officers to ensure that every Orange County Public School is protected by an Orlando Police officer.
The City will also add 10 new Orlando Police officer positions in the year ahead to continue to keep crime low.
Through partnerships with residents participating in Neighborhood Watch, the Orlando Police Department has helped reduce residential burglaries by more than 50 percent over the last three years.
The city recently adopted the Trust Act to help build stronger bonds between police and residents and to reassure undocumented immigrants that reporting crimes will not lead to deportation.
Orlando Fire Department Expansion & Excellence:
Over the next year, the city will hire 29 new certified paramedics or EMTs to provide medical transports to allow the Orlando Fire Department to continue to give the highest level of care in the most efficient manner.
The Orlando Fire Department was recently awarded with accreditation for Fire Based Transport from the Commission on Accreditation of Ambulance Services.  With this accreditation, OFD is the only department in Florida to have an ISO 1 rating, international accreditation, emergency management accreditation and ambulance service accreditation.
The City of Orlando is building three state-of-the-art replacement fire stations for Station 6, 9 and 11.






by





by