Mayor Leary – August 2016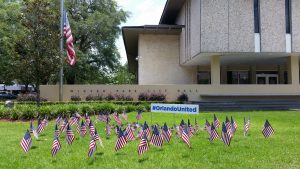 Recently our larger community has had the eyes of the world upon us, and rightly so.  The loss that we have suffered is difficult to comprehend.  A talented 22-year-old singer slayed as she signed autographs.   Then 49 friends and neighbors taken from us while many of us slept.  A two-year-old boy, snatched from his father's hands by a predator at water's edge.
These incidents do not define us.  Rather our response to these losses exposes our character that has long since been established and on a daily basis quietly defines our region.
The loss of live is staggering and not easily explainable to a younger generation.  But what they can get, what they already get, is how our community cares for one another.  The same community that supports Purple Lemonade Stands to support a little girl with a disease that hardly anyone had ever heard of is the same community that hangs purple ribbons along roadways to show a family support for their high school senior who suffered a crippling illness.
We rally in support of our own.
Our response to the Pulse tragedy:
An entire professional soccer stadium pauses at the 49th minute of a league match for a moment of silence to pay tribute to the 49 lives taken. Approximately 50,000 people show up for a vigil around Lake Eola, a rallying point to show the world that we are one.  A local restauranteur opens his doors on a Sunday to serve the community with all proceeds going to the foundation to benefit the victims and their families, and thousands come and wait in line in the pouring rain to show the world that we will not be broken.
In the Mask of Command, author John Keegan profiles commanders who deeply influenced the course of history.  He covers the three primary approaches to leadership: from the front, middle and rear.  Your local leaders, as supported by state and national leader, have worked together and made available resources while leading from the middle surrounded by the community.  It is comparatively easy to lead when times are good.  Adverse times do not define character, they expose it.  Well done Mayor Dyer.  Well done Mayor Jacobs.  Your region, state and national partners appreciate your compassion and your commitment to maintain focus on the victims, their families and the community at large.
There will always be predators at the water's edge.  There will be those who seek to create a divide, and those who see an opportunity in a void.  But they will not succeed in overcoming our oneness.  Love is greater than hate.   Cohesion is greater than divide.  Those who seek to create a divide, and those who see an opportunity in a void will not overcome our unity.  We will pause, we will mourn, but we will not forget.  We will rally.  We will rally in respect and remembrance to those who are gone too soon.
Sincerely,
Mayor Steve Leary
City of Winter Park




by







by