Mayor Leary – January 2020
Orange Avenue Overlay in 2020
Regarding the Orange Avenue Overlay (OAO) District, oftentimes when we discuss "change" to existing standards in Winter Park, we hear a variety of opinions. The intent of the OAO is to provide revised standards to protect and promote the unique characteristics of the Orange Avenue area and create a distinct gateway into Winter Park. This OAO District is used to create a sense of place established through specific architectural styles, streetscape design, open space areas, setbacks, site design, landscaping, and other regulatory controls. This is similar to our Park Avenue and Hannibal Square districts.
The city has discussed the possible redevelopment of Orange Avenue for many years.  In Policy 1-2.4.14 of the Comprehensive Plan, it states:
Policy 1-2.4.14: Mixed Use Designation
Within one year from the adoption of this Comprehensive Plan, the City will create a mixed use overlay or district for commercially designated parcels that would be intended to facilitate design and use flexibility to achieve pedestrian scale, innovative transit connectivity and maximizing open space within a commercially viable and architecturally desirable design. Complementary uses may include, but are not limited to retail, entertainment, office, civic and residential uses.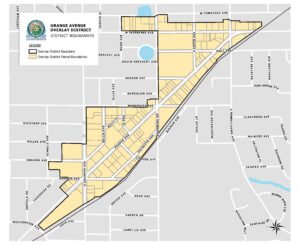 In May 2019, at the request of city staff, the City Commission appointed an 11-member, resident-comprised Orange Avenue Overlay Steering Committee to work with staff to evaluate the potential creation of the OAO District. Any changes would also likely necessitate modifications to the Land Development Code and Comprehensive Plan.
Throughout this process community input was vital. Over the course of the past eight months, there were 19 publicly advertised meetings where the public was invited to attend, provide input, comment, and ask questions.  Additionally, there were two Planning & Zoning Board work sessions and City Commission work sessions, all open to the public.
At their final meeting on November 13, the committee voted 8-2 to recommend approval of the final draft language, with minor changes that were discussed at the meeting.  The major topic that all members of the Steering Committee could not agree upon was whether or not the city-owned Progress Point property (which was appraised at $5.69 million in 2016) should be developed, to what scale it should be developed, and whether or not it should be used as a park.  The findings and recommendations from the committee were based on solutions to problems that have hurt small businesses in the area for many years.  Additionally, the committee used the Vision Winter Park plan, the Sustainability Plan, and the Comprehensive Plan to create a new way of looking at development in Winter Park and allowing for development bonuses to be earned, rather than simply given through rezoning or variance.
There has been tremendous good will among all participants in this process. It has been a transformative way of creating a community-based planning initiative. It was not driven by developers or in response to any sort of planned development. Instead, it was based on the input of the community through the guidance of Steering Committee members who volunteered to spend their free time to explore the challenges that have led to the economic stagnation of Orange Avenue. Thank you to the Steering Committee for your willingness to work together as a team to deliver a product that will enable us to create another special place in Winter Park.
For more information about the OAO District proposal:
Sincerely,
Steve Leary, Mayor






by





by