Mayor Leary – October 2017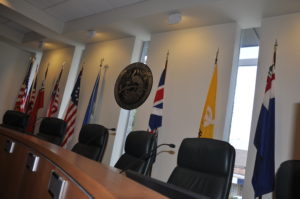 "The Government closest to the people, serves the people best." Thomas Jefferson
Jefferson's words have never been more appropriate.  Your local officials hear, see and feel what you experience and have a better understanding of how these issues impact us the most.  Those serving at the state and federal levels have different responsibilities than we do.  Our governing structure works best when all levels of government understand, respect, and deliver upon their specific responsibilities.
Recognizing the importance of maintaining local governance, in 1968 Florida voters amended the Florida State Constitution to confer broad "Home Rule" powers to municipal government. More specifically in Article III, Section 2(b) our constitution states:
"POWERS. Municipalities shall have governmental, corporate and proprietary powers to enable them to conduct municipal government, perform municipal functions and render municipal services, and may exercise any power for municipal purposes except as otherwise provided by law. Each municipal legislative body shall be elective."
Home Rule gives us the authority to adopt our own ordinances and enact programs that enhance our city without permission from the state, provided our ordinances do not conflict with state or federal law.  This constitutionally guaranteed right has been tested continually over the years and more specifically this past session by the state legislature in Tallahassee.
For example, Community Redevelopment Agencies (CRA) are contractual agreements between cities and counties wherein incremental property tax revenues in a specified area, for a specified time, are reinvested in that specified area.  This past legislative session a bill was introduced to have the state impose itself into the CRA process which would have added layers, reduced efficiencies and interfered with our governance. Creating additional bureaucracy, in the name of better accountability, only punishes those acting responsibly, while the abusers find new ways to circumvent the law.
As well, state leaders note the federal government's preemption of state's rights, which makes their interference in our local rule the height of hypocrisy.
There were other bills introduced that would have negatively impacted our ability to manage building codes, insurance liability, concurrency fees and others.   Most failed, though we expect many to be reintroduced this session as their sponsors return to Tallahassee.  However, one of the most egregious examples of the state legislature's lack of respect for local consideration is the Advanced Wireless Infrastructure Deployment Act which became law on July 1st.
When our electric undergrounding initiative is complete in roughly 10 more years, we will have invested approximately $75 million dollars to remove telephone/electric poles from rights-of-way across the city to improve the reliability of the system and the aesthetics of the city.  This past session, lobbyists and other representatives of the wireless industry descended upon Tallahassee and convinced our representatives that cities MUST allow installation of poles carrying wireless repeaters, within 500 feet of one another, with no requirement to collocate on a singular pole (they can place poles directly next to each other).  Cities also are only allowed to charge a rate for these locations which is roughly 7.5 percent to 12.5 percent of recently negotiated rates for similar placements in nearby cities.  This was all done in the name of a 5G network infrastructure.  Interestingly enough, the 5G standards have not yet been agreed upon, though that did not stop wireless providers from lining up permit applications for new poles as soon as the bill was signed into law.
We are all for providing the latest technology to our stakeholders.  However these programs should be negotiated and developed with local leaders so as to most appropriately meet the unique demands of each market.
Currently, the fight continues with a proposed Resolution 2017-03 where the Florida League of Cities (FLC) is urging the 2017-18 Constitution Revision Commission (CRC) to strengthen municipal Home Rule Authority and further restrict unfunded state mandates.  The CRC meets every 20 years and is meeting in 2017-18 for only the third time in the state's history.  This resolution is asking to strengthen our authority once again.
I accepted the appointment to the executive board of the Florida League of Mayors in part to combat these encroachments on our Home Rule.  We are developing plans to reassert our constitutionally guaranteed authority to best govern as described by Thomas Jefferson centuries ago.
Sincerely,
Steve Leary, Mayor
City of Winter Park






by





by