Mayor Leary's December Message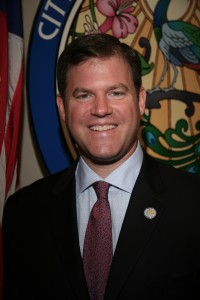 Looking back at 2019 and as we prepare to ring in 2020, I am extremely grateful for the opportunity to serve as the 54th mayor of the City of Winter Park.  We live in the midst of a wonderful region and have worked to increase and improve the assets of our hometown such as greenspace/parks/recreational areas, utilities, traffic, roadway improvements, advisory boards, etc. Thank you to residents, business partners, city staff and fellow commission members for your participation. At time of writing, below are a few of our highlights from 2019:
Enhanced the connectivity and development of the 55+ acre Howell Branch Preserve project by:
approving of the purchase of an additional 0.83 acre lot on Temple Trail
executing the grant agreement between the Florida Department of Environmental Protection ensuring the city's reimbursement for the purchase and the proposed improvements
Continued improvements to the Winter Park Golf Course WP9:
Added more brick pavers and parking spaces to the lot.
Celebrated the opening of the Charles H. Morse Park Moonlight Garden adjacent to the course. The garden's walkway runs all the way from the park entrance at Interlachen Avenue to historic Casa Feliz at the west end of the parking area.
Increased the size of "The Back 9" putting course.
Renovated Azalea Lane Playground with a new shady pavilion, fresh landscaping, and improved climbing structures. 
Installed a new geothermal pump to the Cady Way Pool, making swimming comfortable year-round regardless of the temperature outdoors.
Began the undergrounding of the overhead transmission and distribution lines along the southern side of Fairbanks Avenue between Harper Street and Interstate 4 to improve reliability and aesthetics of this gateway into Winter Park.
Reached electric utility goal by undergrounding a total of 5.2 miles of overhead lines throughout the city. This included the removal of the large power poles along North Lakemont Avenue.
Completed the Denning Drive Multi-Use project which received the 2019 Florida Redevelopment Association's Transportation Transit Enhancement Award. This project resulted in the transformation of Denning Drive from a four-lane road into an improved corridor offering a 10-foot-wide multi-use trail from Orange to Webster avenues enhancing the pedestrian and bicycle experience. The two-year long project was completed in three phases and included road milling, concrete median installation, asphalt paving, new irrigation, trees and landscaping, and installation of new decorative lighting.
Completed the repaving and milling of Webster Avenue, successfully enhancing this roadway's connection to the Denning Drive improvements.




by







by