Mayor Steve Leary – November 2016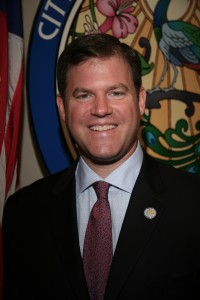 City Celebrates New Fiscal Year
October was a month of celebrations in the City of Winter Park!  We celebrated the grand reopening of our newly renovated Winter Park Golf Course that now offers new challenges to even the most skilled golfer. We welcomed our new Police Chief Michael Deal to the City family to lead our men and women in blue who keep our city safe.  The $1.1 million turf renovation at Showalter Field was completed with the assistance of community partners. October 1 also marked the first day of the city's new fiscal year. I am proud to share that this is the ninth year in a row that we have kept the operating millage rate steady at 4.0923 and remain one of the lowest millage rates in Orange County.
The city's total budget of $158.5 million is comprised of multiple funds that make Winter Park the best place to live, work, and play in Florida. Although each fund plays a significant role in your quality of life, the fund that is the most visible and impactful to your daily life is the General Fund. This year we have some important Capital Improvement Projects and items that we will be concentrating on as part of the approved budget that I'd like to share. Our approved budget:
funds efforts to support sustainability efforts through the hosting of Earth Day and other community awareness activities.
continues the ambitious $3.5 million dollars per year electric undergrounding program with no rate change.
allows Urban Forestry Services to complete a full tree-maintenance cycle within seven years and increases the funding by 38 percent to purchase trees for new plantings.
funds the third year of contribution to replace the city's outdated 1988 operating software known as an Enterprise Resource Program.
expands city-owned fiber optic deployment to city facilities and supports the upgrade of the critical IT network and security infrastructures to ensure confidentiality, integrity, and availability of essential electronic data.
includes the return of the responsibility of the maintenance and upkeep of Showalter Field and Stadium to the city.
increases funding for major maintenance of parks facilities and equipment which will cover minor capital repairs, equipment replacement, facility upgrades, and golf course equipment.
funds efforts to support the updating of the city's Comprehensive Plan.
offers incentives that promote protection of historic places.
increases funding for pedestrian and bicycle-friendly initiatives, road, brick streets, sidewalk/bike path repair and improvements, facilities replacement, and intersection signals.
expands wayfinding on Howell Branch Road and US Highway 17-92.
continues to support outside organizations such as Mead Botanical Garden, the Winter Park Historical Association, United Arts, Dr. Phillips Center for Performing Arts and Winter Park Day Nursery.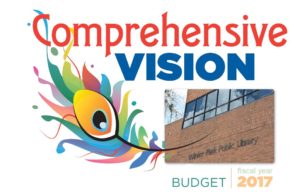 As you can see, the Fiscal Year 2017 budget is a comprehensive vision of the city's future needs with significant investments in infrastructure, recreational areas, strategic initiatives and much needed technology advancements.   Your city staff has made every effort to maximize our resources to continue to provide a superior quality of life for our residents, businesses and visitors.  Many blessings this Thanksgiving and the upcoming holiday season.
Sincerely,
Steve Leary, Mayor
City of Winter Park






by





by