Mayor Steve Leary's Message – March 2018
As we move into 2018, it is important to look back and share some of the highlights from the recent past.
Green space is incredibly important to our community.  We maintain one of the highest standards of greenspace requiring 1 acre of parkland for every 100 residents.  Many other municipalities across the state have a 1 acre/1,000 resident requirement.  So we obviously love our greenspace!
This past year we ADDED 55 acres along Howell Branch road to our inventory.  This park will actually be larger than the Winter Park Golf Course and Central Park combined.  Our plan is to maintain it as a natural resource for low-impact use, with walking, hiking and running trails, as well as a navigable creek running through the middle, for canoeing and kayaking.
We also renovated and reopened the Winter Park Golf Course, or, WP9.  In our first year of operations, the course has been recognized as one of the top ten 9-hole golf courses in the country and it no longer loses money.  This year we will be renovating the Azalea Lane Tennis Center as well, to bring it back to Winter Park standards.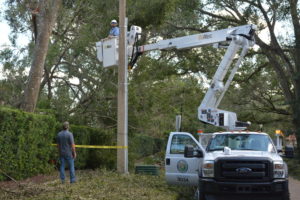 By partnering with OCPS, Rollins College and the Winter Park High School Foundation, we were able to completely renovate Showalter Field.  This facility has a state of the art multi-surface playing field, college style, rubberized track, and multi-media scoreboard.  Winter Park High School students, and the larger community, play football, lacrosse, soccer, hold track and field events here, and we are even using it for larger social events such as Restore the Roar.
This year we will leverage a $2 million state grant to create the St. Andrews Trail, cleaning up the drainage ditch along St. Andrews Boulevard and connect a pedestrian and biking trail to the Cady Way Trail.
We have made major investments in Mead Botanical Garden, Kraft Azalea Garden, and others.  Working alongside our Urban Forestry Division, we are working like never before, to protect our tree canopy and improve our greenspace.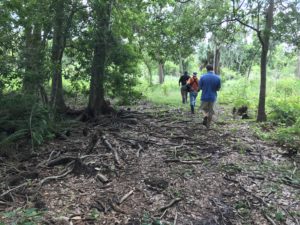 The rapid growth of our region is a major concern.  While little of the growth is within Winter Park, the traffic generated by the increased population outside our geographic borders is affecting our quality of life.  We continue to work with the state, county, neighboring municipalities and even private property owners to create solutions to minimize this impact.
We are seeing very positive results from the extension of Lee Road through the Whole Foods complex.  This roadway is helping to ease congestion through the very busy intersection of Lee Road, Webster Avenue and U.S. Highway 17-92.
In 2017, we also purchased the old bowling alley on Fairbanks Avenue so that we could use a portion of the property to extend the turn lane at U.S. Highway 17-92 and Fairbanks Avenue.  This will assist our traffic movement through this very busy intersection.  In addition, we are working with the Florida Department of Transportation (FDOT) to conduct a Planning Development & Environmental (PD&E) study of U.S. Highway 17-92 to not only allow traffic to traverse this area more efficiently, but we will also be beautifying this corridor with new signals, landscaping, sidewalks and more.
This past year we funded the city's first fiber optic network to connect all city assets.  This network will allow us to utilize Intelligent Traffic Signalization systems so that our signals can work more synergistically to help us smooth traffic through the city.
Another added benefit of this network is our ability to connect wastewater facilities directly back to our central compound.  If, during an event such as a hurricane, the power to our lift stations fails, we will know immediately. We will be able to get power to these devices to keep the sewage flowing properly and keep it from backing up into homes and the streets.
After Hurricane Irma, the City Commission authorized an additional $1 million to go towards our electric utility to address issues that arose during the storm.  This is on top of the $3.5 million that we already spend annually to complete our electric undergrounding efforts.  We are 11 years into our 20-year plan and have roughly 60 percent of the distribution lines underground.
In 2013, the FDOT allocated $13 million to underground the electric transmission and distribution lines along Fairbanks Avenue.  These lines are not owned by Winter Park, though after years of delays, work is planned to begin soon.  Also, a few years back we extended our sewer system all the way to Interstate 4, which allows properties to come off of septic systems and connect to sewer.  We continue our efforts to remove billboards from this corridor.  Fairbanks continues to improve.
Maintaining our historic properties is important.  We now have created Historic Preservation Incentives to encourage voluntary participation into our Historic preservation program.  If you wish to place your home on the register, we want to make it easier and assist in your efforts.
We have been able to accomplish all of this while maintaining the same tax rate for the last 11 years.  We have the fifth lowest mileage rate in all of Orange County and we have +20 percent of our general fund in reserve.  This reserve helps provide security, especially during major storm events, by allowing us to access capital rather than wait for assistance from the Federal Emergency Management Agency (FEMA) or other assistance.
This is just a quick synopsis of our efforts.  I want to thank my fellow commission members, city staff, residents, businesses and guests who continue to work together to make Winter Park this special place.
Sincerely, Mayor Steve Leary




by







by