Mayor's Message – August 2021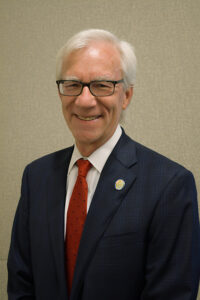 Stay Cool This Summer 
As summer really sets in, I remember the wonderful things that brought our families to Winter Park – trees, parks, and of course the lakes.
For over 140 years, Winter Park's founders, residents and city commissioners have made trees and parks a priority. The tree canopy in your neighborhood keeps you 3.5 degrees COOLER than without the tree canopy. I don't have to tell you how much that matters when the temperature gets up to 90 degrees. And we all know that lemonade and ice cream just taste better in the shade on a hot summer's day.
We take that commitment to trees into our public parks as well. Our gems – Central Park and sidewalk dining, Mead Garden and its bubbling brook, Dinky Dock's beach on Lake Virginia, and all of the trees in our many other parks, make summer cooler and more fun. Winter Park has more park space per person (and more tree coverage) than any other community in central Florida. That kind of commitment takes a long-term vision and this commission is continuing that vision.
Thanks to the work of Commissioners Weaver, DeCiccio, and Sullivan and Vice Mayor Cooper, the city has committed to adding a special park in the heart of Orange Avenue at Denning Drive (known as "Progress Pointe"). A place where you will be able to escape the heat on a hot day. In fact, we have allocated funds to get that park started as soon as possible. It is our hope that you will see the beginnings of a Live Oak Grove taking root by end of the year. A grove that will provide shade to our children's children for the next 200 years. This commission is living by the old saying: "The best time to plant a tree was yesterday, the next best time is today."
But while we are waiting for the live oak trees, enjoy a swim in a city lake… or a pool… to cool off. Fortunately, our residents and guests do not have to travel far to enjoy these amenities. The 25 lakes in the city, including the Winter Park Chain of Lakes, are an invaluable resource for recreational activities, increased economic benefits, and an immeasurable improvement in quality of life. People of all ages can be seen enjoying our lakes by balancing on paddle boards, slowly drifting in a canoe, taking in the scenery on the one-hour Winter Park Scenic Boat Tour, slicing the water on skis, or simply just relaxing along the shoreline from their decks.
Special thanks to the city's Lakes Management Division, which is responsible for managing all of the city's aquatic resources. Also thanks to our Lakes and Waterways Advisory Board, which has helped improve the condition of our lakes since the late 1960s. For specific questions about the city's lakes, please email mjohansson@cityofwinterpark.org or call 407-691-7829.
For those who like the water crystal clear, the city also as two great pools:
Cady Way Pool
407-599-3358
Mon – Fri:
Public & lap swim | 11 a.m. to 4 p.m.
Sat & Sun:
Public & lap swim | noon to 6 p.m.
Community Center Pool
407-643-1650
Mon – Fri:
Public swim | noon to 5 p.m.
Lap swim | 7 a.m. to noon & 5 to 7 p.m.
Sat & Sun:
Public swim | noon to 6 p.m.
Other great community partners include the YMCA at 1201 N. Lakemont Ave., and the Center for Health and Wellbeing, home to the Peggy & Phillip B. Crosby Wellness Center, at 2005 Mizell Ave. For those new to Florida's summer obsession, please call the city at the numbers above to sign up for swim lessons, if needed. Have a safe and cool summer!
Sincerely, Mayor Phil Anderson




by







by