#metoo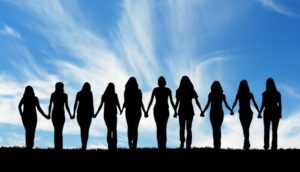 Editor's Message – By Tricia Cable
I am not feeling it.  Despite the calendar straight up ensuring me that it's a new year, something is missing.  Normally, I feel a surge of warmth and hope post-holiday season. And I count on that to catapult me into each New Year with added energy and enthusiasm.  Something is different this year and I am not sure what to attribute it to.
Last year was not without some fairly annoying challenges that took the wind out of my sails, but that can be said for every year and typically, I am thrilled to tackle them, put them behind me, and move on.  I don't have anything that I am stressing about to blame my mood on and quite frankly, things are fairly smooth right now.  So what is it?
If I were to venture a guess, having known me for 50 years, I would say it's the state of our union.  Not politically speaking, don't even get me started…but morally speaking.  The news of a trusted doctor having abused and stolen the childhoods and fractured the confidence of hundreds of young female athletes over the course of thirty years, broke my heart.  Listening to their stories and knowing how alone they must have felt, so isolated as so many adults in their circle trusted him and defended him, left me angry.   I feel for these young women and the parents who put their trust in a system that failed them.
We teach our children to be polite.  We teach them to respect authority.  But we fail to teach them what to do when they are made to feel uncomfortable, for whatever reason.  That needs to change and as ugly as the topic is, we need to start the conversation earlier.  We need to be advocates for all children and sadly, we need to incorporate this conversation in our parenting playbook.  It's not pretty and I don't like it, but we have to change the landscape so that these predators are stopped.
Additionally, the momentum of the #timesup movement and the reports of so many having experienced harassment in the workplace, hit a little closer to home.  I have been a female in a male-dominated industry for thirty years.  In order to be taken as seriously as my male counterparts, I have had to work longer, harder, and smarter.  And although in a perfect world, that would not have been the case, I am okay with it.
I am okay with it because, I have proven to myself time and time again, that I am strong.  There really isn't any task that I am presented with that I can't manage.  There are very few challenges or obstacles that over the course of my career I have not overcome.  I draw from them every day and only get wiser and more nimble with each year.
Sure, it sucked at times.  I have dealt with gender pay gap issues.  I have been passed over for promotions because, and I quote, "He has a wife and kids to support and needs it more than you."   I have been subjected to stricter criticisms in leadership roles because when a female is firm she is labeled a bit differently than a man.  That too, I can handle.  And not surprisingly, I too have been a victim of harassment.
So although the added attention to these matters is positive and the much-needed increased awareness will undoubtedly bring about change, it forces me to address or readdress my own life experiences.  Maybe my mood is directly affected by these current events which require me to relive my own personal experiences and yet again come to grips with my own journey; the good, the bad, and the ugly.  Closure is the best medicine and if sharing our stories with each other brings about closure more quickly, then I say bring it on.  If I can help, I will.  One thing is for sure, lifting each other up is key to recovery and knowing you are not alone is a good thing.  #timesup




by







by